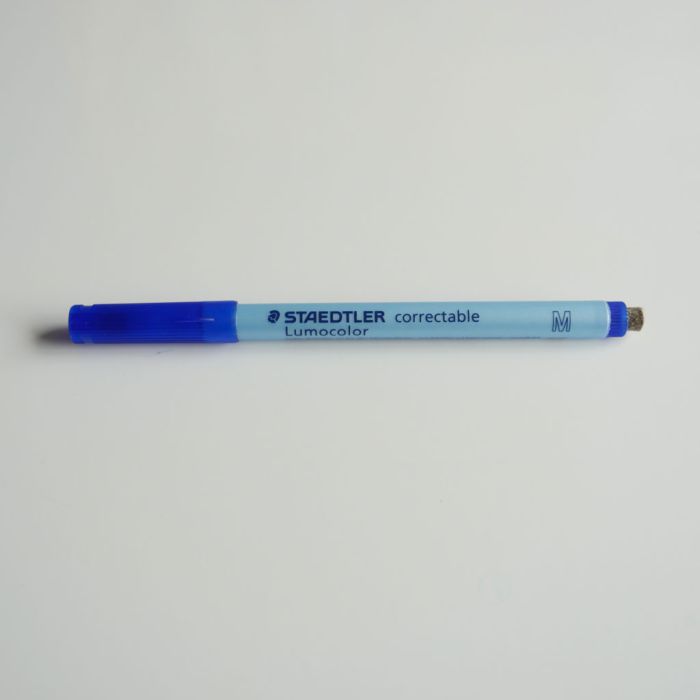 Lumocolor correctable M, blue
Why to get excited about a correctable marker in blue?
We have been experimenting with this exceptional marker and are really fascinated with it in and use it for the whole range of our products. This marker is a good combination of a whiteboard and a permanent marker. Let us explain. This is a really special whiteboard marker. It is much more difficult to wype it clean from the whiteboard surface. It is really good if you use it with the Stattys Notes. You can write on both sides of the Stattys Note. On the colored side, it is not erasable, but on the glossy white backside, it is. This is in our opinion the only marker on the market that we can recommend for both sides of the Stattys Notes. Try it. It also works on paper. It will not pass through the paper as permanent markers do.
We also find it the best match with the Noteboard. The big benefit is that it does not wipe off the easy and you can fold your Noteboard whiteboard and can continue your sketches later without having to fear that your sketches are been wiped off. We prefer to use a damp cloth to clean the board.
Description:
This is a blue color version. It is ideal for writing on almost any smooth surfaces, but especially for Stattys Notes, Sticcos Whiteboard, The Noteboard. The advantage over our other whiteboard markers is that the Lumocolor correctable does not blur so quickly. A written whiteboard is thus much easier to combine with our Stattys Notes, because you can easily move them without blurring the writing. Also, the application on our Noteboard is awesome, because the Noteboard can be conveniently folded without the notes blur. Thus, the markers are ideal for preparing any sketches. The stroke width M is about 1 mm.
Dry wipeable from most smooth surfaces, but needs more effort. Easier to wipe it clean with a damp cloth
Light resistant - legible even after a long time
Color-intensive, low-odor, water-soluble ink, does not strike through paper
Shaft and cap are made of PP and guarantee a long life
The ink can not evaporate
Remember to close the cap, if you are not using it. It tends to dry out for a moment if you leave it open. But after putting the cap back on and letting rest for a while, it works fine again
Delivery:
1 x Lumocolor correctable blue (M)


More Information

| | |
| --- | --- |
| SKU | 381-ASE30020 |
| GTIN | 4007817305423 |
| brand | Lumocolor |
| Color | blue |
| Nib | round |
| Ink | dry-erasable, water-based |
| Refillable | No |
| Packaging | 1 marker |
| Size | 141 x Ø 15 mm |
| Weight in kg | 0.01 |
| Delivery | We do our best to send within 0-2 days with DHL or Deutsche Post |
| VAT Number in EU | While completing your online order, please make sure you fill in your VAT number, if you have one and the delivery is to an EU-country outside Germany. Otherwise we have to incl. 19 % VAT on your invoice |
| Online offering | Our online offering is targeted for companies, registered business, freelancers and associations as well as authorities, schools and universities. German VAT added to all deliveries in Germany and EU deliveries without valid VAT number. |
| Country of Manufacture | Germany |
| HTS Code | 96085000 |
Reviews
Check how other customers rate this product