Customize Your Own Stattys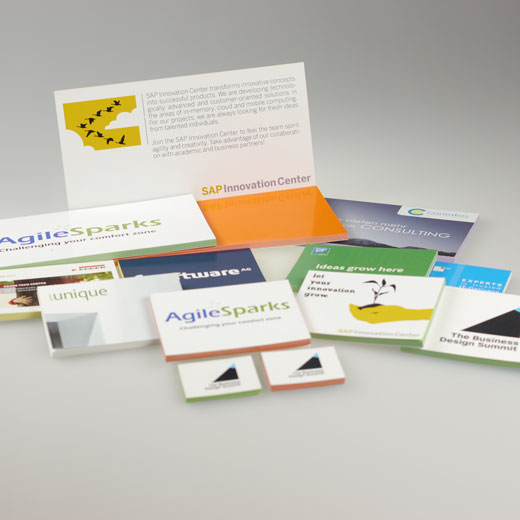 Why Stattys Notes Customized?
If innovation and creativity are experienced in your business, Stattys Notes can provide an extra boost. Your customers can benefit from this just as much as your own employees.
What is Stattys Notes Customized?
Stattys offers customized cover versions of all sizes of  Stattys Notes for your business needs and branding of your company and services. This is an excellent and innovative tool for the promotion of your products and services to your clients, associates and partners.  Simply send us your inquiry, and we will assist you with the design of your own customized Stattys "Write & Slide" sticky notes. Please note that only the cover can be customized, but not the single sheets in the block.
Stattys Notes S (10 x 7 cm, 3.9" x 2.8"), min. order 200 blocks
Stattys Notes M (20 x 10 cm, 7.9" x 3.9"), min. order 200 blocks
Your own size Y x Z?
Available colors: green, orange, yellow, white, blue
Delivery time: 1-3 weeks from approved artwork
We are happy to answer your first questions and provide you an individual quote. Please use the contact form.
How to use Stattys Notes Customized?
You can inspire your customers with your own cover. If you are also an innovative company, you have with your own cover an ideal opportunity to strengthen your innovative power and your customers or employees you make a great pleasure. For ideas that stick!
In addition to your logo, we recommend placing a useful name, an emotional label or an image on the cover. When the user opens the cover and starts writing or drawing, he automatically has the inside of the cover in front of his eyes. A well thought and designed visualization can help your customers and colleagues. We will be happy to help you with the initial ideas and can provide you with a professional design.