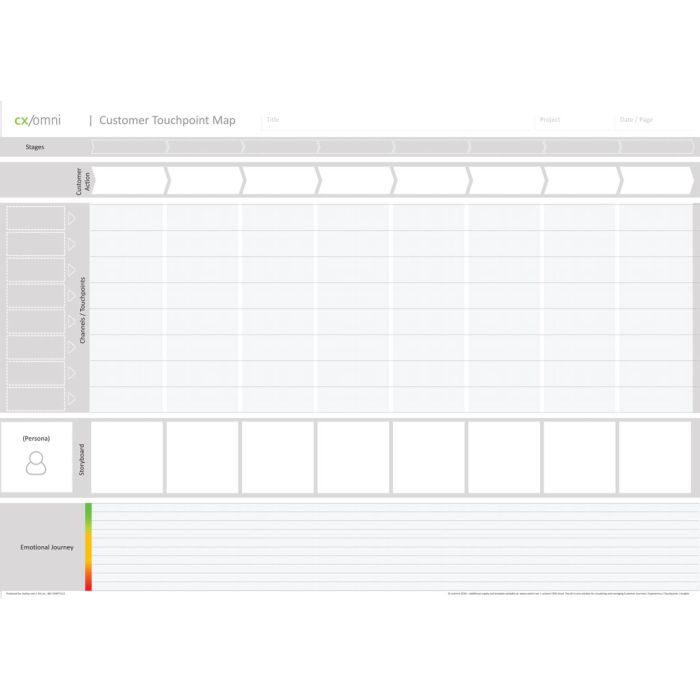 Customer Touchpoint Map B0 (55" x 39") PVC (unbreakable) (EN)
Customer Touchpoint Map: Illuminate Every Step of the Customer Journey
Why Choose the Customer Touchpoint Map?
In today's competitive market, delivering an outstanding customer experience is pivotal. The Customer Touchpoint Map offers a comprehensive view of the customer's journey, helping you refine experiences that consistently delight.
How to Utilize the Customer Touchpoint Map?
Begin by identifying a customer persona and charting their interactions, from purchase to post-purchase feedback. Focus on channels and the customer's emotional state at each touchpoint to reveal powerful insights.
Product Specifications:
Large Dimensions: 140 x 100 cm (55" x 39") ensures ample space for detailed mapping.
Durable Material: Made from robust PVC to withstand multiple brainstorming sessions.
Clear Layout: Designed for easy visualization of stages, channels, and emotional states.
Holistic Customer Experience Strategy:
For a comprehensive approach to customer experience mapping, we recommend pairing the Customer Touchpoint Map with our Customer Journey Map. Dive deep into every nuance of your customer's journey. Both maps are integral components of our Customer Journey Mapping Workshop Toolkit, ensuring a holistic approach to customer experience design and analysis.
Learn More:
Delve deeper into the Customer Touchpoint Map with expert insights from our partner, cxOmni. Check out their informative guide on touchpoints.
Interested in a seamless digital solution for customer journey mapping? Explore cxomnis innovative software solution to elevate your strategy.
Benefits:
Comprehensive Insight: Visualize every customer interaction.
Emotional Mapping: Understand the emotional nuances of your customer's journey.
Continuous Improvement: Design better and more impactful customer experiences.
Links:
More Information

| | |
| --- | --- |
| SKU | 381-CXWT1512-POD |
| brand | cxomni |
| Size | 55" x 39" (140 x 100 cm ) |
| Material | PVC 456 g/m² |
| Weight in kg | 0.574 |
| Delivery | We do our best to send within 0-2 days with DHL or Deutsche Post |
| VAT Number in EU | While completing your online order, please make sure you fill in your VAT number, if you have one and the delivery is to an EU-country outside Germany. Otherwise we have to incl. 19 % VAT on your invoice |
| Online offering | Our online offering is targeted for companies, registered business, freelancers and associations as well as authorities, schools and universities. German VAT added to all deliveries in Germany and EU deliveries without valid VAT number. |
Reviews
Check how other customers rate this product
We found other products you might like!