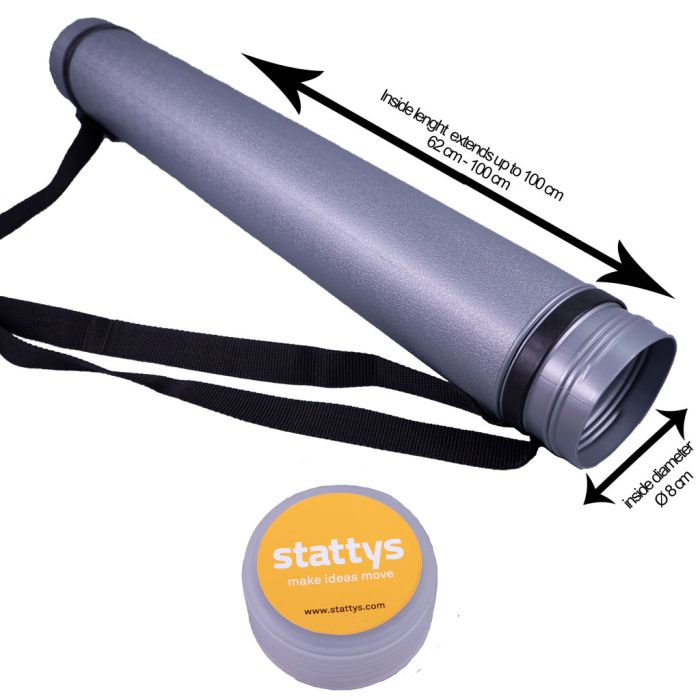 Stattys Carrying Tube (silver)
Carrying Tube
The attractive transporting tube is very convenient and protects your valuable communication tool when traveling. The tube is adjustable and has enough storage space for most Stattys products. The adjustable tube can also be used for flipcharts, artwork or architectural blueprints.
Application
Hold the inner tube with one hand, and the outer tube with the other hand at the opposite end. Now, turn the tube slightly and slide it to the desired length. Then lock it in this setting by slightly turning it into the lock-in position.
When rolling Stattys whiteboards and posters ensure that all sheets are flush, and that the printed side is always facing the outside. Otherwise, the sheets may bend during transport, or may not lay completely flat on the wall surface.
Attention! This carrying tube is not long enough for the Business Model Canvas. Please use our bigger tube for the large Business Model Canvas.
Details
This tube is made from polyethylene (PE) and is recyclable. It extends up 100 cm (39.4") in length, and can be locked in at many different lengths. Silver grey in color, with removable screw cap and adjustable black strap.
More Information

| | |
| --- | --- |
| SKU | 381-PSE30002 |
| brand | Stattys |
| Size | Innen Max. 100 cm, Ø 8 cm . Außen: Länge Min. 62 cm, Ø 9 cm |
| Material | Recyclable PE |
| Weight in kg | 0.45 |
| Delivery | We do our best to send within 0-2 days with DHL or Deutsche Post |
| VAT Number in EU | While completing your online order, please make sure you fill in your VAT number, if you have one and the delivery is to an EU-country outside Germany. Otherwise we have to incl. 19 % VAT on your invoice |
| Online offering | Our online offering is targeted for companies, registered business, freelancers and associations as well as authorities, schools and universities. German VAT added to all deliveries in Germany and EU deliveries without valid VAT number. |
Reviews
Check how other customers rate this product