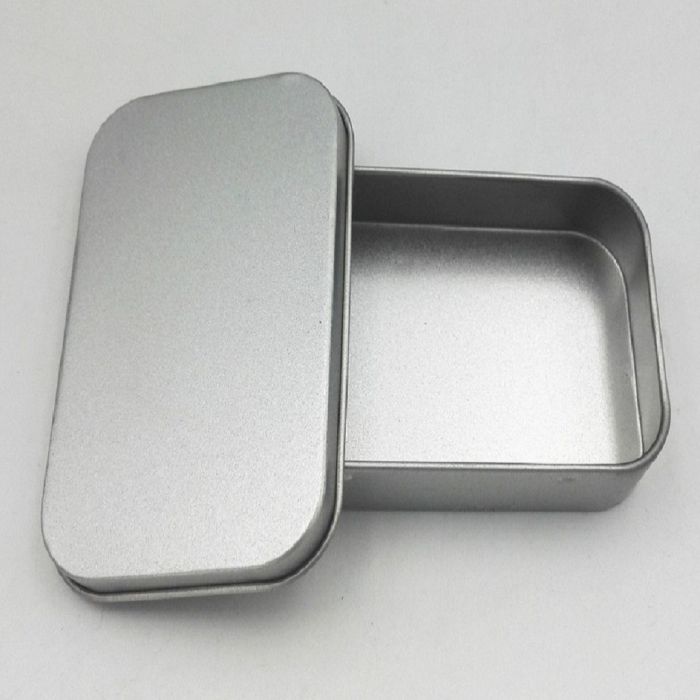 Metal box for small items
Why metal box for small items?
Small items disappear quickly in the carrying case or drawer. Or if you put your objects directly to your trouser pocket, there is a risk they quickly damage, dent, dirt or breake. With this practical metal box, you can store and transport small items quickly, easily and safely.
How to use metal box for small items?
Simply fill the metal box with small objects. The box is suitable for smaller items that are easily susceptible to damage.

Use the metal box for example for:
plaing cards (only for small cards)
learning cards

presentation cards

Headphones or charging cable

USB-Sticks

memory cards

and much more...
Please make sure that the items are not too big.
What is metal box for small items?
The metal box allows you to store your smaller items and transport them safely. A box consists of two parts, bottom and top. The box is made of metal, so it looks nice with the silver color finish and offers enough stability. Due to the high-quality processing, the box is reusable.

The outer size ofthe box is: 9.4 x 5.9 x 2.1 cm


More Information

| | |
| --- | --- |
| SKU | 381-PSE30027 |
| brand | Stattys |
| Size | 9.4 x 5.9 x 2.1 cm (outer size) |
| Material | Other |
| Weight in kg | 0.29 |
| Delivery | We do our best to send within 0-2 days with DHL or Deutsche Post |
| VAT Number in EU | While completing your online order, please make sure you fill in your VAT number, if you have one and the delivery is to an EU-country outside Germany. Otherwise we have to incl. 19 % VAT on your invoice |
| Online offering | Our online offering is targeted for companies, registered business, freelancers and associations as well as authorities, schools and universities. German VAT added to all deliveries in Germany and EU deliveries without valid VAT number. |
| Country of Manufacture | China |
| HTS Code | 76129020 |
Reviews
Check how other customers rate this product