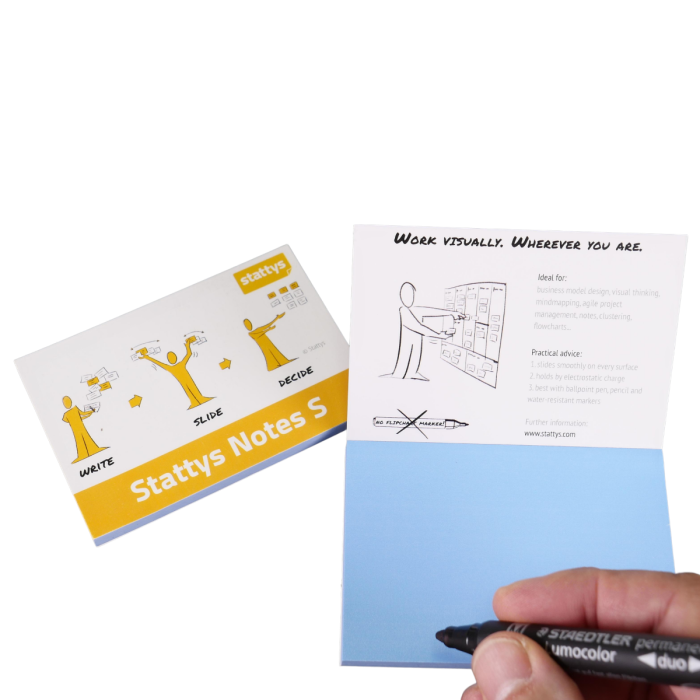 Stattys Notes consist of self adhesive foil-sheets which attach to nearly all smooth surfaces (walls, doors, windows) by way of their electrostatic charge. On the cover you find visual examples that demonstrate different possible applications.
Tip
The Stattys Notes S pad is conveniently sized and can easily fit into the pocket of a shirt or a handbag, and always has a good place in the car. The innovative sliding function enables you to organize your themes and ideas simply and quickly.
You can write on Stattys Notes with water-resistent permanent markers (such as Lumocolor duo permanent or Faber-Castell's GRIP marker), pen, pencil or board markers. Flipchart marker are not recommended on Stattys Notes because the ink is water-based and does not dry quickly on them.
Stattys Notes can be used alone or in combination with Stattys Whiteboards. Every pad contains 95 sheets, and is available in green, orange, yellow, violet and white.
We can develop Stattys Notes with your own branding design and create additional value for your clients and customers. With a minimum quantity of 400 pads, we can help you make a great impression that sticks in your customer's mind.
Above, beside the picture you can enter your desired quantity. Then you simply click on the "shopping cart" icon.
| | |
| --- | --- |
| Product code | Name |
| 381-SWS10195E1 | Stattys Notes S, green |
| 381-SWS10295E2 | Stattys Notes S, orange |
| 381-SWS10395E3 | Stattys Notes S, yellow |
| 381-SWS10495E4 | Stattys Notes S, violet |
| 381-SWS10595E5 | Stattys Notes S, white |
| 381-SWS10695E6 | Stattys Notes S, transparent |
| 381-SWS10795E7 | Stattys Notes S, pink |
| 381-SWS10895E8 | Stattys Notes S, blue |
More Information

| | |
| --- | --- |
| Online offering | Our online offering is targeted for companies, registered business, freelancers and associations as well as authorities, schools and universities. German VAT added to all deliveries in Germany and EU deliveries without valid VAT number. |
| SKU | 381-SWS10895E8 |
| Weight in kg | 0.03 |
| GTIN | 4260381080275 |
| brand | Stattys |
| Country of Manufacture | Finland |
| HTS Code | 39261000 |
| Color | blue |
Reviews
Check how other customers rate this product
We found other products you might like!