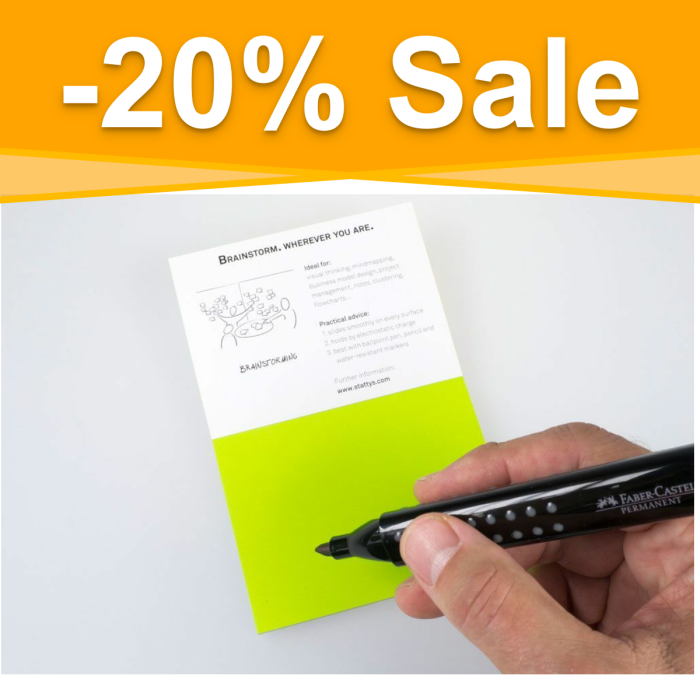 Stattys Notes XS (5 x3,7 cm)
There is no idea too big or too small for Stattys Notes XS. You can capture ideas easily, shuffle them around and organize them for better overview.
Tipp
Plan your next presentation or workshop with Stattys Notes XS and a sheet of paper. Collect your ideas and points on the notes, then move and organize them to your liking. Even while on the road, you can quickly capture your ideas and stick them on a sheet or other flat surface. Try it and have some fun with Stattys Notes XS.
Stattys Notes consist of self adhesive foil-sheets which attach to nearly all smooth surfaces (walls, doors, windows) by way of their electrostatic charge. On the cover you find visual examples that demonstrate different possible applications.
You can write on Stattys Notes with water-resistent permanent markers (such as Lumocolor duo permanent), pen, pencil or board markers. Flipchart marker are not recommended on Stattys Notes because the ink is water-based and does not dry quickly on them.
Stattys Notes can be used alone or in combination with Stattys Whiteboards. Every pad contains 95 sheets, and is available in green, orange, yellow and blue.
We can develop Stattys Notes with your own branding design and create additional value for your clients and customers. With a minimum quantity of 600 pads, we can help you make a great impression that sticks in your customer's mind.
Above, beside the picture you can enter your desired quantity. Then you simply click on the "shopping cart" icon.
| | |
| --- | --- |
| Product number | Product name |
| 381-SWS00195E1 | Stattys Notes XS, green |
| 381-SWS00295E2 | Stattys Notes XS, orange |
| 381-SWS00395E3 | Stattys Notes XS, yellow |
| 381-SWS00895E8 | Stattys Notes XS, blue |
More Information

| | |
| --- | --- |
| SKU | 381-SWS00195E1G |
| brand | Stattys |
| Color | Select color above |
| Notes in pad | 95 notes |
| Notes size | 5 x 3.7 cm (2" x 1.5") |
| Ideal for | Brainstorming, business model design, clustering of ideas, design thinking, elevator pitches, flowcharts, kanban, mindmapping, presentations, project management, scrum, storyboards, visual planning, visual thinking |
| Environmental aspects | Recyclable polypropylene (pp), dispose in pp recycling system, small quantities are usually allowed to mix with paper waste, if no other option, dispose to municipal waste, which will be most often converted to energy, pp has a high calorific value |
| Characteristics | Best with water-resistant permanent markers, ballpoint pens, pencil, extremely thin and light, glossy white backside reusable with whiteboard marker, holds by electrostatic charge, no glue, slides smoothly on every surface |
| Material | Recyclable polypropylene (pp), paper cover |
| Weight in kg | 0.002 |
| Delivery | We do our best to send within 0-2 days with DHL or Deutsche Post |
| VAT Number in EU | While completing your online order, please make sure you fill in your VAT number, if you have one and the delivery is to an EU-country outside Germany. Otherwise we have to incl. 19 % VAT on your invoice |
| Online offering | Our online offering is targeted for companies, registered business, freelancers and associations as well as authorities, schools and universities. German VAT added to all deliveries in Germany and EU deliveries without valid VAT number. |
Reviews
Check how other customers rate this product