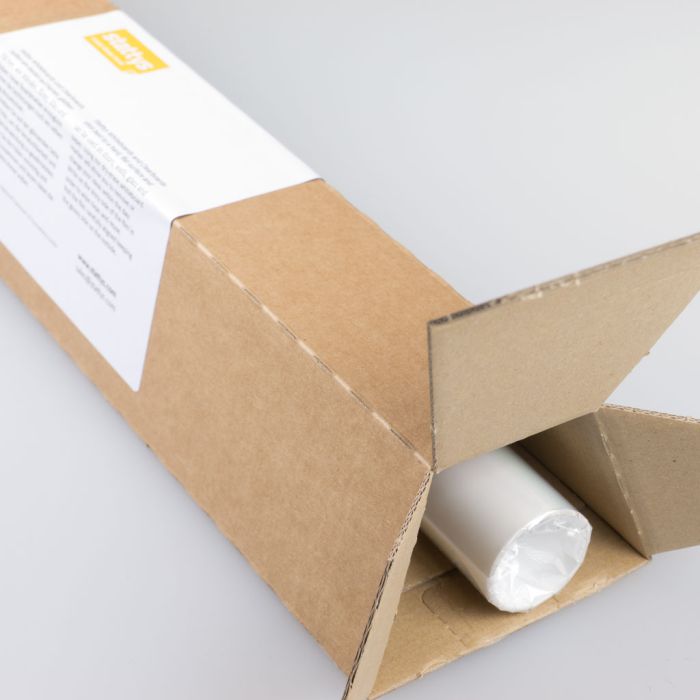 Sticcos Clearboard Sheets - selectable sizes
*In this Video we used our Sticcos Nano Tack Whiteboard Sheet. The application of all Sticcos Sheets are the same.
Why Sticcos Clearboard Sheet?
Perhaps you always wanted to use a Whiteboard in your study, office or home office, but did not want to deal with the holes in the wall. Our Sticcos Whiteboard Sheets offer a brilliant solution. The sheets attach firmly and easily on all glossy surfaces (glass, glossy cupboard and doors) due to their unique 'micronobbing' technology. As this process is free of adhesives, the whiteboard sheet can be detached and repositioned. Also, all notes and drawings with dry-erase markers can still be erased after 10 days or more.
How do I use Sticcos Clearboard Sheet?
Sticcos Whiteboard Sheets attach to their glossy surface immediately and offer an excellent function in your home office. Without leaving residue on the surfaces, these Sticcos Whiteboard Sheets are an excellent alternative to the typical whiteboards. If necessary, you can also cut the foil to smaller sizes for your needs. We recommend the use on windows, glas, and fridge. The surface you attach it, must be glossy as a window. Make sure you clean the surface with a cloth and that it is absolutely dust free, before you attach the Sticcos Whiteboard sheets to your preferred surface.
What are Sticcos Clearboard Sheet?
Sticcos Whiteboard Sheets are manufactured from high quality recyclable PET sheets and by the application of the 'micronobbing' technology. Sticcos Whiteboard Sheets are durable, thicker and robust on the working surface. Even after 10 days, it is easy to erase any dry-erase marker notes or sketches. We call them semi-permanent whiteboard sheets, as they can be detached easy, but while taking them to a new place, it is not really convenient to carry them with you, as the micronobs tend to attached to each other or other surfaces.
Overview of the differences between our Sticcos Whiteboard Sheets
Sticcos Whiteboard
Sticcos Clearboard
Sticcos Magnetic Whiteboard
Sticcos Nano Tack Whiteboard
Sticcos Nano Tack Magnetic Whiteboard

Color white
Non-magnetic
Sticks to all glossy surfaces like glass, glossy cupboard or refrigerator

Color clear/transparent
Non-magnetic
Sticks to all glossy surfaces like glass, glossy cupboard or refrigerator

Color white
Magnetic
Sticks to all glossy surfaces like glass, glossy cupboard or refrigerator

Color white
Non-magnetic
Sticks to all smooth surfaces like glass, cupboards, doors, refrigerator & nearly every smooth surface

Color white
Magnetic
Sticks to all smooth surfaces like glass, cupboards, doors, refrigerator & nearly every smooth surface

select
Current View
select
select
select
Choose your size above. Available sizes:
| | | |
| --- | --- | --- |
| Product code | Name | Size |
| 381-WBMS200 | Sticcos Clearboard | 45 x 60 cm / 18" x 24" |
| 381-WBMS208 | Sticcos Clearboard | 14,8 x 21 cm / 6" x 8" |
More Information

| | |
| --- | --- |
| SKU | 381-WBMS200G |
| brand | Stattys |
| Size | selectable sizes - see size table below description |
| Color | transparent |
| Ideal for | Brainstorming, design thinking, flowcharts, kanban, mindmapping, project management, scrum, storyboards, visual planning, visual thinking |
| Environmental aspects | Recyclable PET, dispose in PET recycling system, small quantities are usually allowed to mix with paper waste, if no other option, dispose to municipal waste, which will be most often converted to energy |
| characteristics_whiteboard | holds by unique microcups, no glue or residuals, best with whiteboard marker, reusable and repositionable, with our GRIP whiteboard marker erasable even after ten days |
| Material | Recyclable PET |
| Weight in kg | 1 |
| Delivery | We do our best to send within 0-2 days with DHL or Deutsche Post |
| VAT Number in EU | While completing your online order, please make sure you fill in your VAT number, if you have one and the delivery is to an EU-country outside Germany. Otherwise we have to incl. 19 % VAT on your invoice |
| Online offering | Our online offering is targeted for companies, registered business, freelancers and associations as well as authorities, schools and universities. German VAT added to all deliveries in Germany and EU deliveries without valid VAT number. |
| Country of Manufacture | China |
| HTS Code | 39261000 |
Reviews
Check how other customers rate this product