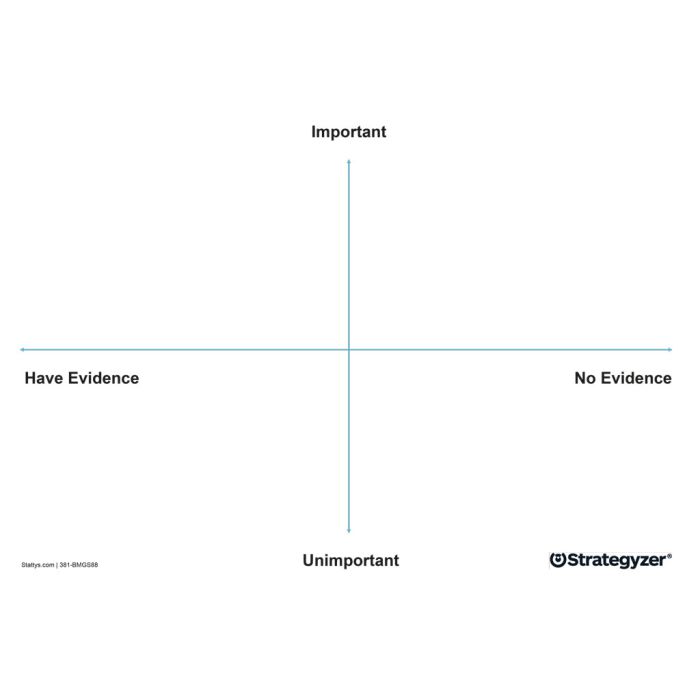 Optimize Your Innovation Strategy with Assumptions Map
The Assumptions Map is a helpful tool in your innovation and strategy arsenal. It's designed for visionaries, entrepreneurs, and creative strategists, who use the Business Model and Value Proposition Canvas to design and fine-tune their business ideas.

At first stage, your concept is just that - an idea. It's built on a series of assumptions, yet untested by real-world scenarios and customer responses. Your idea's viability, desirability, and feasibility are yet to be validated. This is where our Assumptions Map comes in, guiding you to hypothesize, prioritize, and validate your ideas, ensuring they are not only desirable for customers but also viable and feasible for you.
How does the Assumptions Map work?
This intuitive tool is featured in the Strategyzer Series book "Testing Business Ideas" by renowned innovation strategists, David J. Bland and Alex Osterwalder. We at Stattys highly endorse this book for its actionable steps that transform unverified concepts into validated business propositions.

Here's how you can get the most out of the Assumptions Map:
Identify Hypotheses: Begin by translating each assumption from your Business Model and Value Proposition Canvas into a hypothesis. We recommend different color Stattys Notes for each type of hypothesis, whether it's desirability, feasibility, or viability.
Prioritize Hypotheses: Place your Assumptions Map next to your other canvases and begin to rank your hypotheses on the Stattys Notes based on the evidence you have and their significance to your business strategy.
Identify and Prioritize the Riskiest Hypotheses: The objective of this exercise is to spot your riskiest hypotheses - the ones that have high importance yet limited evidence to support them. You will find them on the top right quadrant. These are your priority for testing; if they fail, your entire business concept could falter.
Choosing the right Assumptions Map for you
Our Assumptions Map comes in two sizes: A3 and A0, each designed to cater to different working scenarios.

For solo strategists or duos, we recommend the A3 version paired with our Stattys Notes XS. This compact format is also ideal for training sessions.

For larger teams with wall space for visual strategy building, our A0 size Assumptions Map paired with
Stattys Notes S offers a more expansive and collaborative experience.
Product code
381-BMG184
381-BMGS88
Name
Assumptions Map A0 - Synthetic Paper
Assumptions Map A3 folded to A4 - Paper
Size
33" x 47" (84 x 118 cm)
11" x 16" (297 x 420 cm)
Material
Synthetic Paper 210g
Paper 250g
Learn more about the Assumptions Map
More Information

| | |
| --- | --- |
| SKU | 381-BMG184G |
| brand | strategyzer |
| Weight in kg | 1 |
| VAT Number in EU | While completing your online order, please make sure you fill in your VAT number, if you have one and the delivery is to an EU-country outside Germany. Otherwise we have to incl. 19 % VAT on your invoice |
| Online offering | Our online offering is targeted for companies, registered business, freelancers and associations as well as authorities, schools and universities. German VAT added to all deliveries in Germany and EU deliveries without valid VAT number. |
Reviews
Check how other customers rate this product