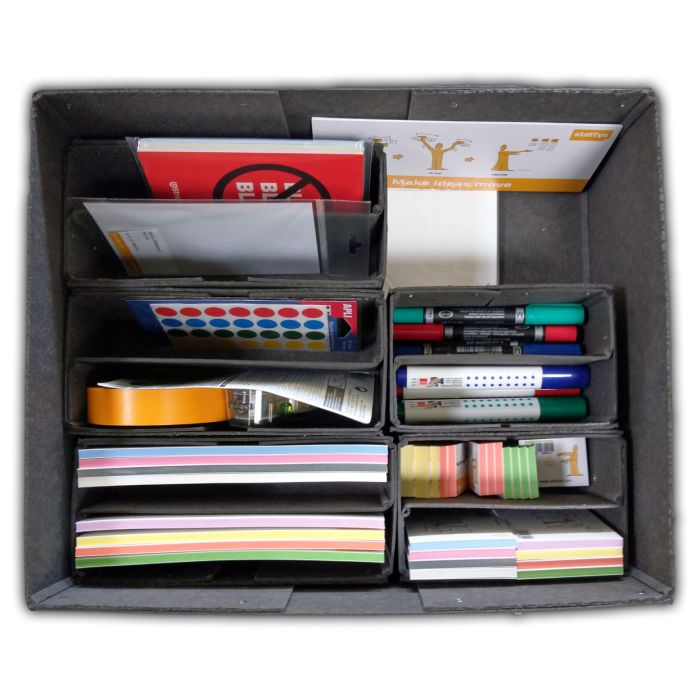 This exclusive and new Workshop Box 1.0 was developed by the entire Stattys team. This set has everything you need for an effective training, presentation or event, so you can start right away. No matter in which area you use the material. Let your creativity take over your mind and body!
After you have opened the shipping carton, you will find the included workshop box. With the included Washi Tape you can quickly and easily attach the supplied BMG and VP Canvas to the wall. Of course you can also attach other posters or similar material to the wall. The Washi Tape can be removed without leaving any residue.
Your ideas can be captured quickly and easily with the GRIP marker and the Stattys Notes, both products are also included in the set. The Workshop Box 2.0 also offers Stattys Whiteboard Sheets in A4 as well as a Sticcos Whiteboard Sheet in A6. To do this, use the included whiteboard markers. If you dodge writing / painting whiteboards, you can use ourMicrofiber cleaning cloth to correct your work. The GRIP markers and whiteboard markers are available in different colors. This allows you to be colorfully creative.
Our Stattys Notes are available in different sizes and colors. So you will always find the right pad for every use. Unlike our Workshop Box 1.0 you will also find our Stattys Notes XS in this new Workshop Box 2.0. These are perfect in combination with the BMG / VP Canvas. The Business Model Canvas and the Value Proposition Canvas are in A3 format and are in the outer packaging, underneath the box.
A total of 15x Stattys Notes XS blocks (5 x 3,7 cm) je 5 in the colors: green, yellow, orange and blue
A total of 8x Stattys Notes S blocks (7 x 10 cm) in the colors: green, yellow, orange, violet, white, transparent, blue and pink
A total of 8x Stattys Notes M blocks (10 x 20 cm) in the colors: green, yellow, orange, purple, white, transparent, blue and pink
3x Lumocolor Duo Permanent marker black
3x permanent marker Lumocolor in black
4x Whiteboard Marker in black, blue, green and red
1x Stattys Whiteboards A4-10
1x Sticcos Clip Set of 2
1x Microfiber cleaning cloth yellow
5x BMG Canvas A3
5x Value Proposition Canvas A3
10x Blah Blah Blah Cards (Redemption Cards)
10x Business Model Test Cards
10x Business Model Lerning Cards
1x agipa marker points 15 mm (voting points) - per unit 140 points (self-adhesive)
1x Washi Tape yellow (on roll)
1x Sticky Notes Roll blue (50 x 80 mm)
1x Stattys bag in black
1x Stattys product description in A4 - folded
Dimensions of the boxes:
External box: 37,5 x 30,5 x 15 cm
Lid: 38 x 31 x 16 cm
Small inner box: 15 x 9 x 9 cm (with central dividers)
Large inner box: 21 x 9 x 9 cm (with central dividers)
The box including contents has a total weight of 3.82 kg.
More Information

| | |
| --- | --- |
| SKU | 381-SET10400 |
| GTIN | 4260381080510 |
| brand | Stattys |
| Size | 37,5 x 30,5 x 15 / 6 cm |
| Material | Other |
| Weight in kg | 3.715 |
| Delivery | We do our best to send within 0-2 days with DHL or Deutsche Post |
| VAT Number in EU | While completing your online order, please make sure you fill in your VAT number, if you have one and the delivery is to an EU-country outside Germany. Otherwise we have to incl. 19 % VAT on your invoice |
| Online offering | Our online offering is targeted for companies, registered business, freelancers and associations as well as authorities, schools and universities. German VAT added to all deliveries in Germany and EU deliveries without valid VAT number. |
| Country of Manufacture | Germany |
| HTS Code | 39261000 |
Reviews
Check how other customers rate this product