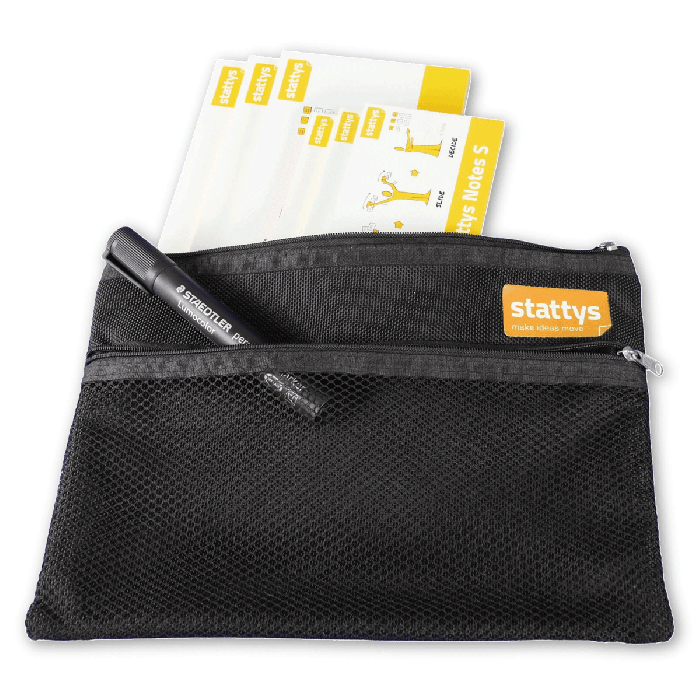 Stattys Notes Starter Set 1
Stattys Starter Set 1
The Stattys Notes Starter Set 1 is ideal for beginners and for those who wants to learn more about our innovative product. The main product in this set: is our Stattys Notes pads.
Thanks to the convenient travel size, you can easily take always a pad for your spontaneous ideas. The pad fits into the shirt pocket or handbag and should not be missing in the car. The brilliant movement function makes it easier to structure your ideas.
What makes the Stattys Notes unique? They are electrostatic charged notes, which means that you can stick them to any smooth dust free surface without the hassle of adhesive strips.
The permanent marker: it is perfect for writing on the Stattys Notes pads.
The Stattys Bag: we wanted you to be able to take your Stattys Notes Starter Set 1 with you, when you travel. It takes very little space and protects your Stattys Notes.
This set includes:
Stattys Bag
3 Stattys Notes S - green/orange/yellow
3 Stattys Notes M - green/orange/yellow
1 Lumocolor Permanent Marker black
More Information

| | |
| --- | --- |
| SKU | 381-SET10201 |
| GTIN | 4260381080343 |
| brand | Stattys |
| Size | 25,5 x 2 x 19,5 cm |
| Material | Other |
| Weight in kg | 0.381 |
| Delivery | We do our best to send within 0-2 days with DHL or Deutsche Post |
| VAT Number in EU | While completing your online order, please make sure you fill in your VAT number, if you have one and the delivery is to an EU-country outside Germany. Otherwise we have to incl. 19 % VAT on your invoice |
| Online offering | Our online offering is targeted for companies, registered business, freelancers and associations as well as authorities, schools and universities. German VAT added to all deliveries in Germany and EU deliveries without valid VAT number. |
| Country of Manufacture | Germany |
| HTS Code | 49261000 |
Reviews
Check how other customers rate this product