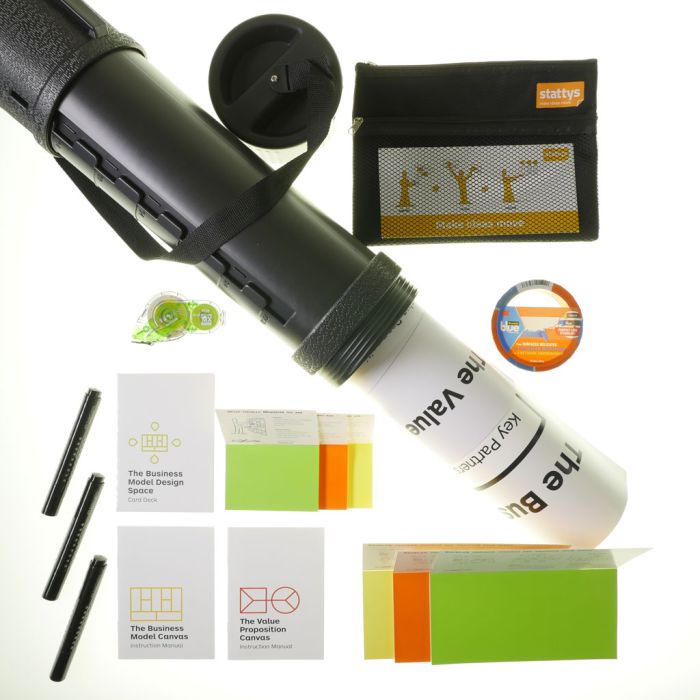 Business Model Generation Toolkit 3.1 (facilitation kit) German version
Why Business Model Generation Toolkit? (facilitation kit)
We have created this unique toolkit together with Alex Osterwalder and his BMG team. It provides all you need for a team of 3-6 members.
How to use the Business Model Toolkit?
Open the box, pull out the two Canvases.Take the blueScotch tape and tear out stripes to attached the Canvas to a wall, board aor windows. With the GRIP markers you can start to write your items on Stattys Notes and plot them to your Canvas. When you are finished and have taken a photo of your new business model, remove the Canvas from the wall and roll them to the practical transportation tube to be used again for the next session.
What is the Business Model Toolkit?
In this updatd version starting November 2016, we have printed the BMG and VP Canvas on a even more robust and durable material of PVC.
The Business Model Toolkit includes:
1x transportation carton
1x Stattys Tube 12.5 x 75-135 cm
1x Business Model Canvas (140 x 100 cm), PVC, German version
1x Value Proposition Canvas (119 x 84 cm), PVC, German version
1x Washi Tape yellow (on roll)
1x Stattys Notes M (10 x 20 cm) green
1x Stattys Notes M (10 x 20 cm) orange
1x Stattys Notes M (10 x 20 cm) yellow
1x Stattys Notes S (7 x 10 cm) green
1x Stattys Notes S (7 x 10 cm) orange
1x Stattys Notes S (7 x 10 cm) yellow
3x Permanentmarker Lumocolor duo, chipsel and round nib
1x Mapping the Business Model Design Space Card Deck (German version)
1x The Business Model Canvas Instruction Manual (German version)
1x The Value Proposition Instruction Manual (German version)
3x Stattys Notes Info Card

Links
More Information

| | |
| --- | --- |
| SKU | 381-BMGTK4DE |
| GTIN | 4260381080374 |
| brand | Stattys |
| Size | Package: 115 x 15 x 15 cm (47.2" x 5.9" x 5.9") |
| Material | Recyclable PP, PVC 456 g/m² |
| Weight in kg | 2.96 |
| Delivery | We do our best to send within 0-2 days with DHL or Deutsche Post |
| VAT Number in EU | While completing your online order, please make sure you fill in your VAT number, if you have one and the delivery is to an EU-country outside Germany. Otherwise we have to incl. 19 % VAT on your invoice |
| Online offering | Our online offering is targeted for companies, registered business, freelancers and associations as well as authorities, schools and universities. German VAT added to all deliveries in Germany and EU deliveries without valid VAT number. |
Reviews
Check how other customers rate this product