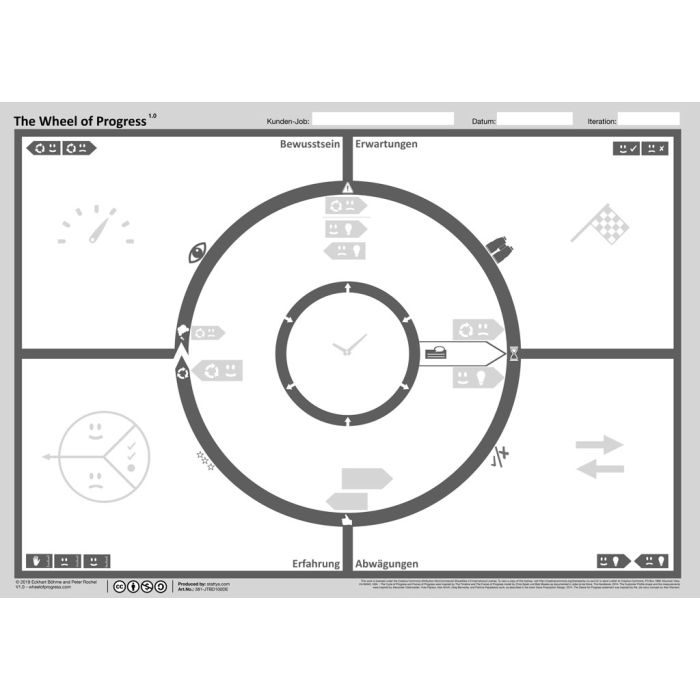 The Wheel of Progress (DE)
Why The Wheel of Progress?
The Wheel of Progress helps you to develop a fundamental understanding of people's desire to make progress in life – both as a consumer or as a business person. It integrates the most important items of a so-called customer job. The Wheel of Progress allows you to capture, structure, analyze, evaluate, visualize, and communicate customer jobs. You can also transfer the outcomes easily to the Value Proposition Canvas by Strategyzer. The Wheel can be used in teams as a shared language to have a better understanding of customer jobs.
Who is it for?
The Wheel of Progress is intended for those who want to understand the causal mechanics of innovation drivers from a customer perspective. It requires a detailed understanding of its elements and die interview and evaluation process to get the most out of it. We strongly recommend attending The Wheel of Progress Masterclass. In future there will be additional learning options available. For more information visit: wheelofprogress.com
How to use The Wheel of Progress?
Getting started
Start by creating a label for the customer-job as a starting hypothesis, date and version it.
Then populate the insights of a jobs-to-be-done interview on Stattys Notes M, S or XS using a color code. For each of the three rings (the outer cycle of progress, the middle forces of progress ring, and the inner limiting context) post your observations.
Also populate the interviewee's expectations and experiences with the current solution and start sorting the forces of progress into the appropriate quadrants. Leave the forces in the middle ring that don't serve as hiring and firing criteria. Be sure all statements are based on facts that you heard. Remember to put only one item on each Stattys Note.
Synthesize and evaluate
Discuss the customer job with your peers, identify the higher purpose and rename the initial customer job if needed. Evaluate the current customer job experience in terms of tangibility, and the potential for resolving pains and fulfilling unrealized gains. If you suspect different jobs in one interview, pull them apart into different Wheels.
Statement of desired progress

Be reminded by the arrow at 3 o'clock that you can summarize the customer job also by writing a statement of desired progress.
Pattern recognition
Complete one Wheel of Progress for each interview. When you have conducted enough interviews, try to find patterns and consolidate jobs into master jobs. At the job portfolio level, you may want to judge the jobs based on their importance and on how lucrative it would be to execute the job for customers.
Draw conclusions for marketing, sales, product management, after-sales service, etc. Transfer the jobs, pains and unrealized gains into the customer profile as part of the Value Proposition Canvas and create a value proposition of each chosen customer profile. Use The Wheel of Progress to keep in touch with the "big picture" of the customer job.
What is The Wheel of Progress?
This Canvas is especially made in different versions, materials and sizes. Currently, we offer you sizes of The Wheel of Progress on high quality paper and a large-scale PVC version.
Choose your material and size above. If you plan to use it over a period of time, we recommend PVC. PVC material is not easily recyclable. However, if you intend to use if for a longer period, we believe it makes sense to use this material. Otherwise, we recommend our simpler versions in synthetic or normal paper. The advantage of synthetic paper is that you can remove a tape from it, without tearing off the surface. It also lays flatter, i.e. does not curl as much as normal paper.
More Information

| | |
| --- | --- |
| SKU | 381-jtbd-0-de-g |
| brand | Stattys |
| Material | Printed paper 135 g/m², PVC 456 g/m² |
| Weight in kg | 1 |
| Delivery | We do our best to send within 0-2 days with DHL or Deutsche Post |
| VAT Number in EU | While completing your online order, please make sure you fill in your VAT number, if you have one and the delivery is to an EU-country outside Germany. Otherwise we have to incl. 19 % VAT on your invoice |
| Online offering | Our online offering is targeted for companies, registered business, freelancers and associations as well as authorities, schools and universities. German VAT added to all deliveries in Germany and EU deliveries without valid VAT number. |
Reviews
Check how other customers rate this product