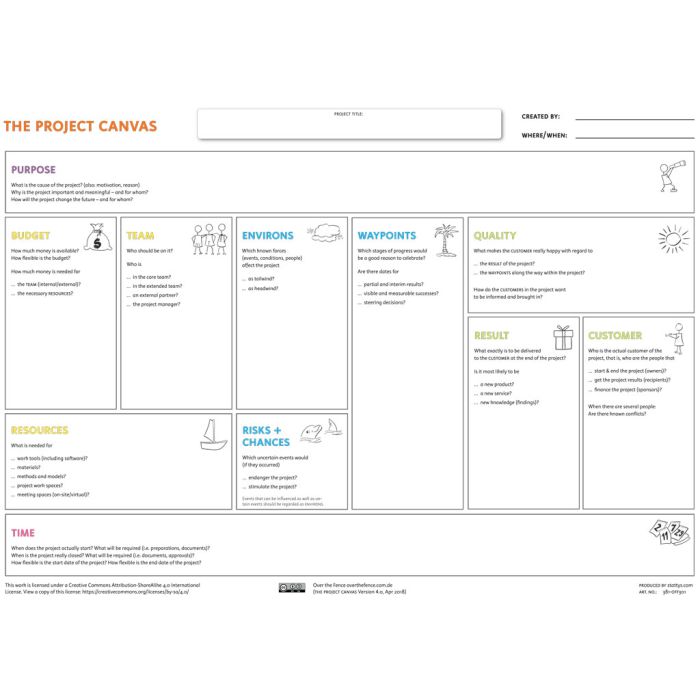 The Project Canvas A0 PVC v4 (unbreakable) (EN)
Project Canvas
The Project Canvas is a tool to systematically understand, design, and initiate new projects. This result is helpful to gain confidence, supporters and sponsors, and enter the next stage. The visual format allows you to
structure your own thinking and to create a more complete picture of your project idea
present your project to most important stakeholders, and
include ideas and feedback of others in a shared picture of your project.
The project canvas is applicable in agile projects (Scrum, etc.) as well as in traditional settings (Prince2, etc.). It has proven to be beneficial for project professionals and for people who are new to project management.
Application
Simply put a large-size canvas poster on a wall and equip yourself with pens and stattys or other (re)movable tools to arrange your thoughts. The easiest way to apply the canvas is to work through the questions which are printed on the canvas poster. This way, you will map out each building block, which is important for your project.
Tip: How to best facilitate a group meeting by means of the project canvas, depends on the context. Ask for help from the "Over the Fence" project initiative, and you will benefit from tips and tricks or get personal support by experiences facilitators.
The Project Canvas is an A0 poster with a clear structure to design a project. It contains around 30 powerful questions that help to systematically define a project. Demystified and buzzword free. It is designed for people in projects. And it's more than a checklist. Three magic ingredients make it perfect for creating a shared understanding of a project (also and especially for interdisciplinary teams):
A Visual Metaphor - the Project Journey explains the nature of a project (see also … )
11 Project Building Blocks - these topics are important for any project
30 Powerful Questions - proven to be valuable for people from any professional & cultural background
Links
More Information

| | |
| --- | --- |
| SKU | 381-OTF301-POD |
| brand | Habermann | Schmidt |
| Size | 118,9 x 84,1 cm (49" x 33") |
| Material | PVC 456 g/m² |
| Weight in kg | 0.41 |
| Delivery | We do our best to send within 0-2 days with DHL or Deutsche Post |
| VAT Number in EU | While completing your online order, please make sure you fill in your VAT number, if you have one and the delivery is to an EU-country outside Germany. Otherwise we have to incl. 19 % VAT on your invoice |
| Online offering | Our online offering is targeted for companies, registered business, freelancers and associations as well as authorities, schools and universities. German VAT added to all deliveries in Germany and EU deliveries without valid VAT number. |
| Country of Manufacture | Germany |
| HTS Code | 49019900 |
Reviews
Check how other customers rate this product