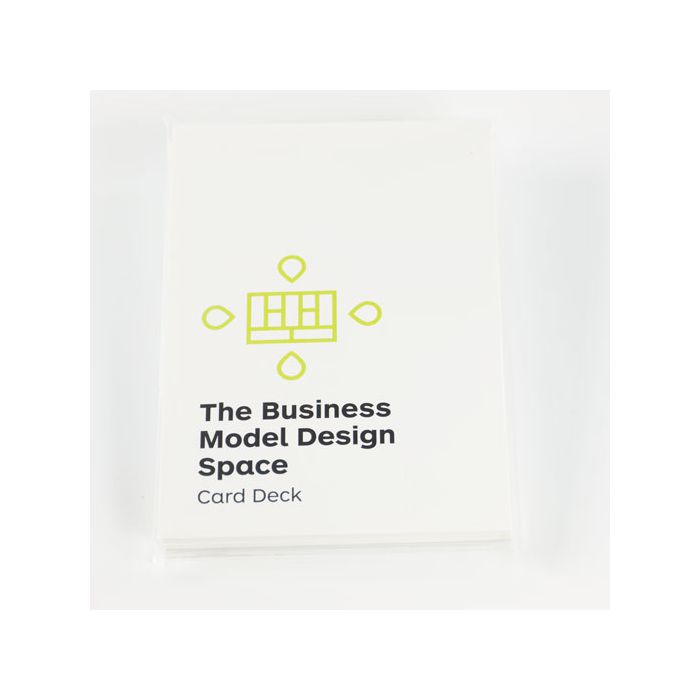 Mapping the Business Model Design Space Card Deck, (EN)
Why a Card Deck for Mapping the Business Model Design?
Not one person in your organization can portray a complete picture of the extent of your business model and environment. Only by representing the knowledge and know how of each expert in your organization, can you develop a common understanding of your environment.
How do I use them?
Ideally, you organize the workshop with a group of individuals with different functions and from different departments of your organization.
To start, you decide on the four areas:
market forces
key trends
industry forces
macro-ecenomic trends
Take all cards from one area, and put the first card on the wall next to the BMG Canvas. The color-coding and visuals on the cards make is easy to facilitate the positioning in the right place.
Answer the questions on the card by inserting discussion topics from Stattys Notes, spreadsheets, graphics, products, magazine excerpts or anything useful and legible. Preferably, use visual material over plain text.
Continue this process with the remaining cards on the other selected areas. Keep going until you have worked through all the cards.
What are they?
These cards provide a mapping tool for workshop and aim to portray and record visual models of your business concept. They will assist you with the challenge of your new business model. With a visual concept, you will create a more concrete understanding of your environment.
More Information

| | |
| --- | --- |
| SKU | 381-BMGDS1 |
| GTIN | 4260381080381 |
| brand | strategyzer |
| Size | 10.5 x 14.8 cm (4.1" x 5.8") |
| Material | Recyclable PP |
| Weight in kg | 0.117 |
| Delivery | We do our best to send within 0-2 days with DHL or Deutsche Post |
| VAT Number in EU | While completing your online order, please make sure you fill in your VAT number, if you have one and the delivery is to an EU-country outside Germany. Otherwise we have to incl. 19 % VAT on your invoice |
| Online offering | Our online offering is targeted for companies, registered business, freelancers and associations as well as authorities, schools and universities. German VAT added to all deliveries in Germany and EU deliveries without valid VAT number. |
| Country of Manufacture | Germany |
| HTS Code | 490110000 |
Reviews
Check how other customers rate this product