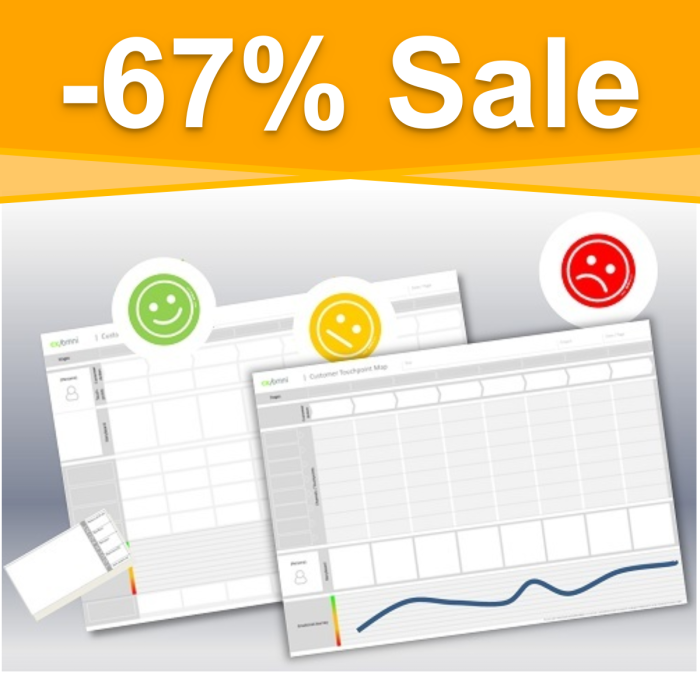 Customer Journey Mapping Workshop Toolkit
Special Price
€29.37
Regular Price
€89.00
Why Choose the cx/omni Customer Journey Mapping Workshop Toolkit?
In an era where customer-centricity is more than a buzzword, it's a business imperative. With the cx/omni Journey Customer Mapping Workshop Toolkit, you're not just mapping customer journeys; you're building bridges between your brand and your customers.
How to Use the cx/omni Customer Journey Mapping Workshop Toolkit?
This toolkit is designed for flexibility—ideal for whiteboards, walls, or cork boards. Our durable, double-sided Customer Journey Mapping posters from paper, cards, and sticky notes offer ample room for personalized insights.
Toolkit Content
1 x Guideline "Customer Journey Mapping" (PDF download only) (please use Edge)
2 x Customer Journey Mapping posters* (paper, 140×100 cm)
2 x Customer Touchpoint Map posters* (paper, 140×100 cm))
100 x Sticky Notes "Touchpoints"
100 x Blank Sticky Notes
14 x Theme Cards
30 x Arrow Cards "Customer Activities"
2 x Sticker Sets
25 x Pins and Identification Tape "Emotional Journey"
* The posters are a printed on both sides, i.e. 2 double-side printed posters
Holistic Customer Experience Strategy:
These tools provide an end-to-end holistic approach to understanding and enhancing your customer's journey.
Learn More:
Gain further insights into Customer Journey Mapping with cx/omni's detailed guide (46-page PDF). Download here (you need to accept their cookies).
Interested in professional Customer Journey Mapping workshops? Reach out to the cx/omni support team at +49-89-207042-986.
For a seamless online experience, consider trying the cx/omni SaaS solution—free for up to 5 users and 100 touchpoints.
Benefits:
Flexibility: Take the toolkit with you to your team or customer
Comprehensiveness: All the tools you need for a successful workshop.
Insightfulness: Built for gaining deep insights into customer behaviors and emotions.
Links:
More Information

| | |
| --- | --- |
| SKU | 381-CXWT1509 |
| brand | cxomni |
| Size | Package: 111 x 16 x 14 cm |
| Material | Printed paper 135 g/m² |
| Weight in kg | 0.9 |
| Delivery | We do our best to send within 0-2 days with DHL or Deutsche Post |
| VAT Number in EU | While completing your online order, please make sure you fill in your VAT number, if you have one and the delivery is to an EU-country outside Germany. Otherwise we have to incl. 19 % VAT on your invoice |
| Online offering | Our online offering is targeted for companies, registered business, freelancers and associations as well as authorities, schools and universities. German VAT added to all deliveries in Germany and EU deliveries without valid VAT number. |
| Country of Manufacture | Germany |
| HTS Code | 39261000 |
Reviews
Check how other customers rate this product