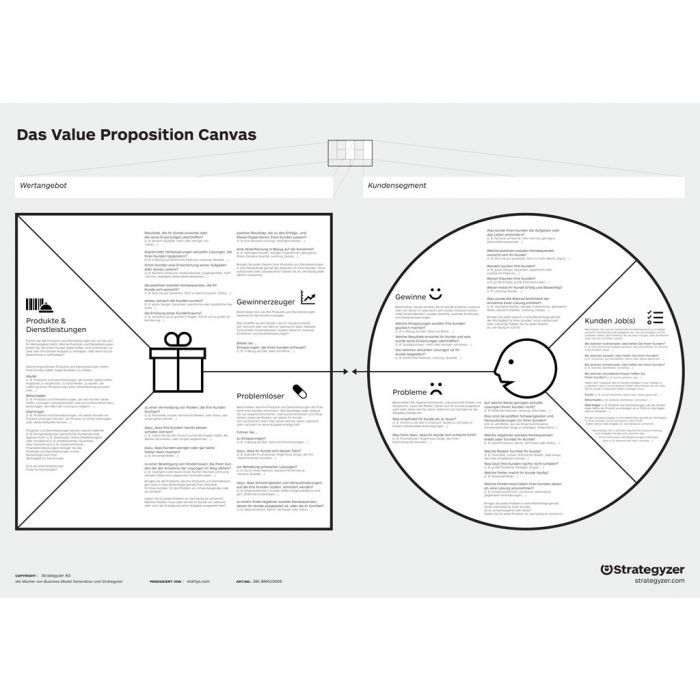 Value Proposition Canvas with trigger questions (DE)
Why a Value Proposition Canvas?
Helps you create value for your customer. Develop and test the value proposition of your products or services with this canvas from Alex Osterwalder. Alex recommends the use of this canvas together with "Lean Startup / Minimum Viable Product (MVP) from Eric Ries, and the principals of customer development from Steve Blank.
How do I do this?
This is Alex's step-by-step process:
1. Write your ideas on our Stattys Notes XS, S or M and place the notes on your value proposition canvas.
2. Test your assumptions about the customer, meaning, "get out of the building" (as per Steve Blank).
3. Customize your assumptions from newly gathered insights.
4. Change values and benefit propositions according to your new findings.
5. Build your MVP (Minimum Viable Product), and customize it according to your value propositions.
What is it?
The Value Proposition Canvas are available in english oder german. The Canvas are also available as paper, Synthetic paper or PVC and orderble in different sizes. The Canvas are reusable, wehn you write your ideas on our Stattys Notes. Actually we offer the Value Proposition Canvas in many different sizes and art of material. If you want to order a ful Set, we prefer our BMG Toolkit.
Links & References
Blog Post from Alex Osterwalder on Value Proposition Canvas
Lean Startup from Eric Ries
Blog from Steve Blank
Choose your material and size above. If you plan to use it many times we prefer to order it in PVC. PVC material is environmetally challenging material and not easily recyclable. However, if  you keep using it ovr and oves again, we believe it makes sence to use this material. Otherwise we prefer to order our simpler variant in synthetic paper.
You can choose your size and the art of material above. You can see our different offers below - notice that this Canvas are with triggerquestions, for Canvas without triggerquestions click here:
| | | | |
| --- | --- | --- | --- |
| Product code | Name | Size | Material |
| 381-BMG150DE | BMG VP Canvas A0 | 46.8" x 33.1" (118.9 x 84.1 cm) | PVC 410g |
| 381-BMG114DE | BMG VP Canvas A3 | 16.5" x 11.7" (42 x 29.7 cm) | paper 300g |
More Information

| | |
| --- | --- |
| SKU | 381-BMG-VP-TQ-DE-G |
| brand | strategyzer |
| Material | Printed paper 300 g/m², PVC 456 g/m² |
| Weight in kg | 1 |
| Delivery | We do our best to send within 0-2 days with DHL or Deutsche Post |
| VAT Number in EU | While completing your online order, please make sure you fill in your VAT number, if you have one and the delivery is to an EU-country outside Germany. Otherwise we have to incl. 19 % VAT on your invoice |
| Online offering | Our online offering is targeted for companies, registered business, freelancers and associations as well as authorities, schools and universities. German VAT added to all deliveries in Germany and EU deliveries without valid VAT number. |
Reviews
Check how other customers rate this product