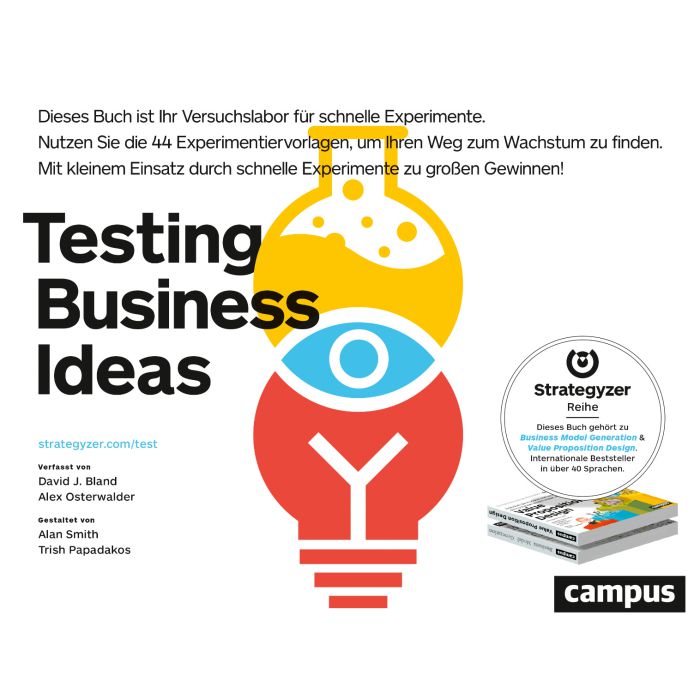 Testing Business Ideas: Mit kleinem Einsatz durch schnelle Experimente zu großen Gewinnen, Buch (DE)
Why Testing Business Ideas?
So test who will bind himself eternally!

If you have a business idea, it is a good idea to test it on the customer before scaling it. Since "Business Model Generation" not only start-ups know this, but also corporates and self-employed people. "Testing Business Ideas" is the most comprehensive collection of experiments to research customer wishes and user experiences ever in book form! 


How to use Testing Business Ideas?
The book provides blueprints for the optimal testing process for different types of products - hardware, software, services - and has lots of tips for practical implementation. Because not every experiment is suitable for every purpose. But every experiment can be conducted by teams as well as individuals.
What is Testing Business Ideas?
"Testing Business Ideas" is the perfect complement to Business Model Generation and Value Proposition Design.
Details:
Paperback: 362 pages
Publisher: Campus; 1 edition (March 11, 2020)
Language: German
ISBN: 978-3593511962
More Information

| | |
| --- | --- |
| SKU | 381-BMGBK5DE |
| brand | strategyzer |
| Weight in kg | 0.94 |
| VAT Number in EU | While completing your online order, please make sure you fill in your VAT number, if you have one and the delivery is to an EU-country outside Germany. Otherwise we have to incl. 19 % VAT on your invoice |
| Online offering | Our online offering is targeted for companies, registered business, freelancers and associations as well as authorities, schools and universities. German VAT added to all deliveries in Germany and EU deliveries without valid VAT number. |
Reviews
Check how other customers rate this product