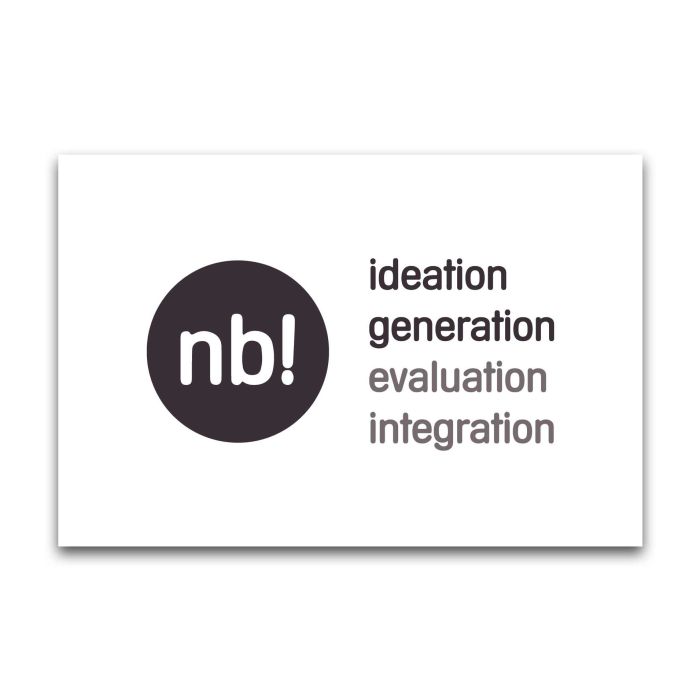 nb! 01 - New Business Card Deck 01: Business Model Ideation + Generation
nb! 01 - New Business Card Deck 01: Business Model Ideation + Generation
Discover the future of your business with the nb! 01 New Business Card Deck 01 - your key to ideation and business model development!
nb! 01 - New Business Card Deck 01 in German
Do you have brilliant ideas for products and services that will captivate your customers? The nb! 01 New Business Card Deck 01 is your secret weapon to transform these ideas into innovative business models. With 75 carefully selected questions, you'll experience creative thinking processes characterized by structure, speed, and, above all, joy.
Why You Should Choose nb! 01 New Business Card Deck 01:
Limitless Inspiration: Our specially designed cards are the key to unleashing your creativity and discovering new business opportunities.
Proven Results: These cards were developed by an experienced author and have already proven to be highly effective tools for ideation in incubators, accelerators, and established companies.
High-Quality Materials: Printed on sturdy 350g cardstock, coated with a playing card finish, and individually packaged in tear-open cellophane, these cards are not only functional but also durable.
Product Features:
75 Inspiring Questions: Each card contains a unique question that ignites your creative thoughts and opens new perspectives.
Structured Thinking Processes: The deck has been thoughtfully designed to assist you in sorting, combining, and filtering your ideas.
For Workshops and More: Ideal for challenging workshop sessions and brainstorming meetings in various corporate environments.
Bring Your Ideas to Life!
The nb! 01 New Business Card Deck 01 is not just a tool for ideation; it's the key to realizing innovative business models. Transform your visions into reality and impress your customers with groundbreaking solutions.
Order Now!
Enhance your creative processes and boost your company's innovation. Order the nb! 01 New Business Card Deck 01 today and embark on a journey into a world brimming with ideas!
Note: Product images are for illustration purposes only. The actual product may vary slightly.
More Information

| | |
| --- | --- |
| SKU | 381-BMGE201DE |
| brand | Stattys |
| Size | 85 x 122 x 32 mm |
| Material | Cards 350 g/m² |
| Weight in kg | 0.28 |
| Delivery | We do our best to send within 0-2 days with DHL or Deutsche Post |
| VAT Number in EU | While completing your online order, please make sure you fill in your VAT number, if you have one and the delivery is to an EU-country outside Germany. Otherwise we have to incl. 19 % VAT on your invoice |
| Online offering | Our online offering is targeted for companies, registered business, freelancers and associations as well as authorities, schools and universities. German VAT added to all deliveries in Germany and EU deliveries without valid VAT number. |
| Country of Manufacture | Germany |
| HTS Code | 490110000 |
Reviews
Check how other customers rate this product