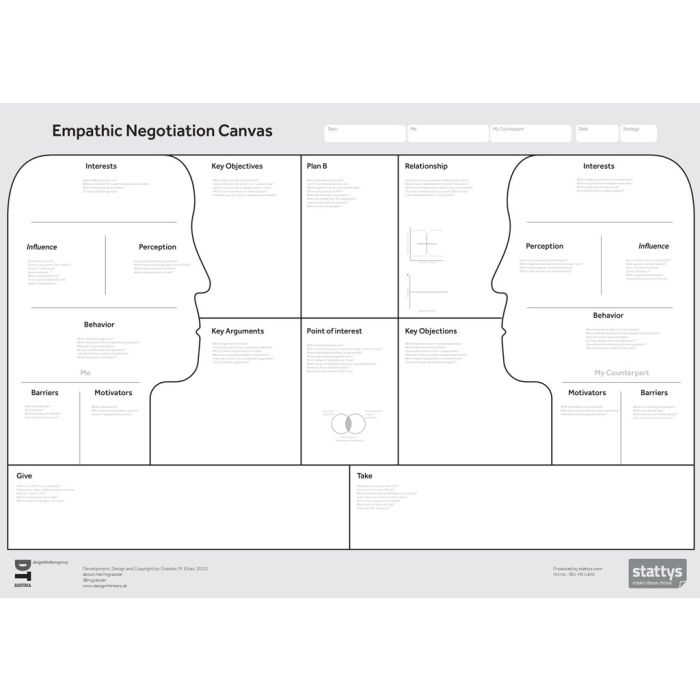 The Empathic Negotiation Canvas A3 (EN) (pdf download version)
2 für jeweils

15,00 €

kaufen und

40

% sparen
3 für jeweils

12,00 €

kaufen und

52

% sparen
4 für jeweils

11,00 €

kaufen und

56

% sparen
5 für jeweils

10,00 €

kaufen und

60

% sparen
15 für jeweils

5,00 €

kaufen und

80

% sparen
EMPATHIC NEGOTIATION CANVAS BY MANUEL GRASSLER
Be Prepared For Your Negotiations of Tomorrow
"The ability to negotiate -with customers, partners, investors, suppliers, and colleagues-is a vital skill for every professional." (Harvard Business School, 2014)
"I learned that to be a good leader, you must be a good negotiator in every sense." (Fernando Sanz Pinto, General Manager, 2014)
Why The Empathic Negotiation Canvas?
Negotiations take place in business as well as in private life every day. For this reason we should understand that the success of negotiation is primarily based on two premises (The Harvard Concept, 2009):
The main part of the negotiation success lies in the proper preparation prior to the negotiation

The small part of the negotiation is based on objective or extrinsic goals, while a large part lies in hidden issues, like...
We want to make our live easier

We want others to consider us competent

We want a peace of mind

We want to be listened to

We want remain the freedom of choice
For this purpose the Empathic Negotiation Canvas has been designed. It enables you to be able to prepare well for your next negotiation. The Empathic Negotiation Canvas will support you to work out your motivation, goals and arguments as well as the ones of your opponent. It finally guides you systematically through the complete negotiation process. In detail, the canvas supports you in...
Understanding better your negotiation partner

Drawing a visual overview of your negotiation strategy

Creating different variants of your negotiation

Collaborative preparation within a team

Anticipating the motivation, behavior and personality of your partner and opponent

Design fast a solid basis for your negotiation
What is The Empathic Negotiation Canvas?
The Empathic Negotiation Canvas is a professional visual method and tool for the preparation of your negotiations in private and professional life. It is suitable for all kinds of negotiations where a common agreement is to be achieved. For example:
Negotiation contracts between partners or suppliers

Negotiation in project proposals

Negotiation with customers

Negotiating a pay raise
It is also a great and simple tool to train the basics of negotiation preparation, as well as visualizing different negotiation strategies.
The Empathic Negitiation Canvas is also available as printed version on a special 210 g/m² synthetic paper, which is extremely robust and can be reused many times.

How to use The Empathic Negotiation Canvas?
We recommend projecting this digital The Empathic Negotiation Canvas by Manuel Grassler on the wall to create a dynamic process for your strategy. The Empathic Negotiation Canvas with its supporting questions will guide you through the complete negotiation preparation process. For a dynamic strategy creation we recommend to write your ideas directly on Stattys Notes S and move them on the related blocks.
What satisfied customers are saying
"The Empathic Negotation Canvas is an effective tool to prepare yourself for important negotiations. The outstanding feature of this tool is the support in understanding your motivation asl wells as the one of your counter part. This leads to better reactions of yourself during the negotiation." (Torsten J. Koerting, Project Manager, January 2014)
About the author Manuel Grassler
Manuel Grassler is a marketing strategist. He is engaged in brand development, market research as well as customer needs and insights. He thereby abandons existing paths to explore new concepts and methods of ideation to encourage maverick thinking. Manuel uses his refined mindset regularly at design thinkings and business model sessions to forge innovative concepts and strategies and support young start-ups with their challenges

Visit The Blog of Manuel Grassler at Manuel's Blog
Links
Mehr Informationen

| | |
| --- | --- |
| SKU | 381-NEG402 |
| brand | Stattys |
| Größe | A3 |
| Gewicht in kg | 1 |
| Umsatzsteuer 19 % oder 7 % für EU-Bestellungen | Erfolgt die Lieferung in einem EU-Land außerhalb Deutschland, sollten Sie unbedingt Ihre UStId-Nr. auf das entsprechende Feld während Ihrer Bestellung eingeben. Ohne gültige UStId-Nr. sind wir verpflichtet Ihnen 19 % bzw. 7 % MwSt. zu berechnen |
| Online-Shop Angebot | Die Angebote im Online-Shop gelten nur für Firmen, Gewerbetreibende, Freiberufler und Vereine sowie Behörden, Schulen und Universitäten. Alle Preise gelten zzgl. MwSt. für Lieferungen in Deutschland und in EU ohne UmSt.-Id.Nr. |
Bewertungen
Überprüfen Sie, wie andere Kunden dieses Produkt bewerten