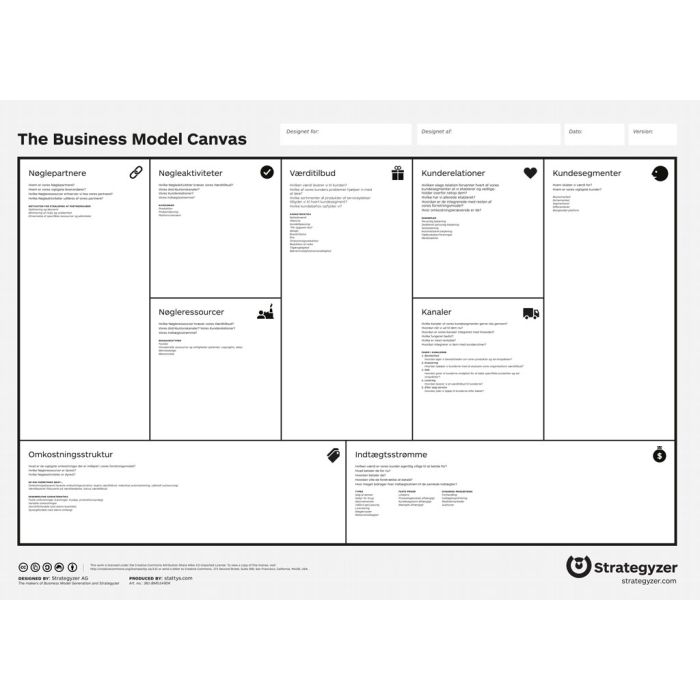 Business Model Canvas B0 unbreakable pvc (DK) Print-on-Demand
2 für jeweils

34,11 €

kaufen und

5

% sparen
5 für jeweils

32,31 €

kaufen und

10

% sparen
10 für jeweils

28,72 €

kaufen und

20

% sparen
Why Business Model Canvas (Danish)?
With the Business Model Canvas you can sketch out new business ideas or visualize existing businesses. The Canvas can be used in teams as a shared language to have a better strategic conversation or individually as a tool to structure your thinking.
How to use it?
Getting started
Start sketching out your business model by creating Stattys Notes M for each one of the nine building blocks. Some people prefer to begin by listing their customer segments or value propositions. Others prefer starting with their key resources or key activities. It doesn't matter. Just do it. Remember to put only one idea on each Stattys Note.
Add all elements relevant to your model
Ask yourself what all the elements are that your business model requires to create, deliver, and capture value. Create a Stattys for every single element that is important.
Check completeness and coherence
Make sure you don't create "orphan" elements in your business model. For example, for each customer segment and their jobs-to-be-done you should have a corresponding value proposition. Or, for instance, for each value proposition, you should list the key resources and activities that are required to create it.
Tell a story
When finished sketching out your business model try telling the story of your model one Stattys at a time. Take all the Stattys down and explain your business model by putting up one Statty after the other on a blank Canvas. This will force you to tell a coherent story element after element.
What is it?
This Canvas is an especially robust poster made of PVC. You can use it many times as a simple visual method and tool for visionaries, game changers, and challengers to create and test your existing and future business models. Currently, we offer you many sizes of BMG Canvas as a high-quality paper or PVC version and as a complete BMG Toolkit.
Make sure you order this only, if you plan to use it many times. PVC material is environmentally challenging material and not easily recyclable. However, if you keep using it over and over again, we believe it makes sense to use this material.
This Canvas has a size of B0 (140 x 100 cm) and is printed on PVC 456 g/m².
Mehr Informationen

| | |
| --- | --- |
| SKU | 381-BMG149DK-POD |
| brand | strategyzer |
| Größe | 140 x 100 cm (55" x 39") |
| Material | PVC 456 g/m² |
| Gewicht in kg | 0.456 |
| Versand | Wir versenden in der Regel in 0-2 Tagen mit DHL oder Deutsche Post. |
| Umsatzsteuer 19 % oder 7 % für EU-Bestellungen | Erfolgt die Lieferung in einem EU-Land außerhalb Deutschland, sollten Sie unbedingt Ihre UStId-Nr. auf das entsprechende Feld während Ihrer Bestellung eingeben. Ohne gültige UStId-Nr. sind wir verpflichtet Ihnen 19 % bzw. 7 % MwSt. zu berechnen |
| Online-Shop Angebot | Die Angebote im Online-Shop gelten nur für Firmen, Gewerbetreibende, Freiberufler und Vereine sowie Behörden, Schulen und Universitäten. Alle Preise gelten zzgl. MwSt. für Lieferungen in Deutschland und in EU ohne UmSt.-Id.Nr. |
| Hersteller Land | Deutschland |
| Zolltarifnummer | 490110000 |
Bewertungen
Überprüfen Sie, wie andere Kunden dieses Produkt bewerten