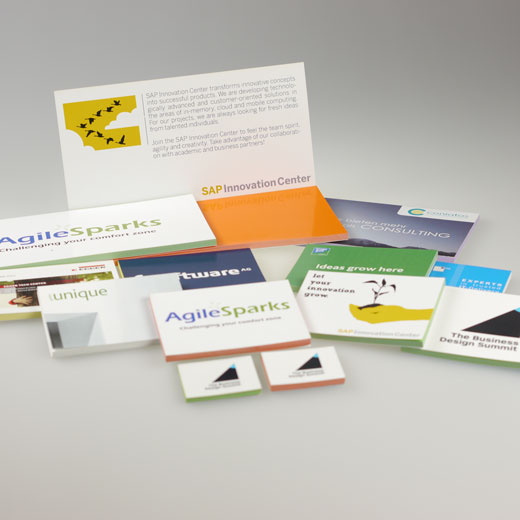 Stattys offers customized cover versions of all sizes of Stattys Notes for your business needs and branding of your company and services. This is an excellent and innovative tool for the promotion of your products and services to your clients, associates and partners. Simply send us your inquiry, and we will assist you with the design of your own customized Stattys "Write & Slide" sticky notes. Please note that only the cover can be customized, but not the single sheets in the block.
Stattys Notes S (10 x 7 cm, 3.9" x 2.8"), min. order 200 blocks
Stattys Notes M (20 x 10 cm, 7.9" x 3.9"), min. order 100 blocks
Your own size Y x Z?
Available colors: green, orange, yellow, white, blue
Delivery time: 1-3 weeks from approved artwork
We are happy to answer your first questions and provide you an individual quote. Please use the contact form.