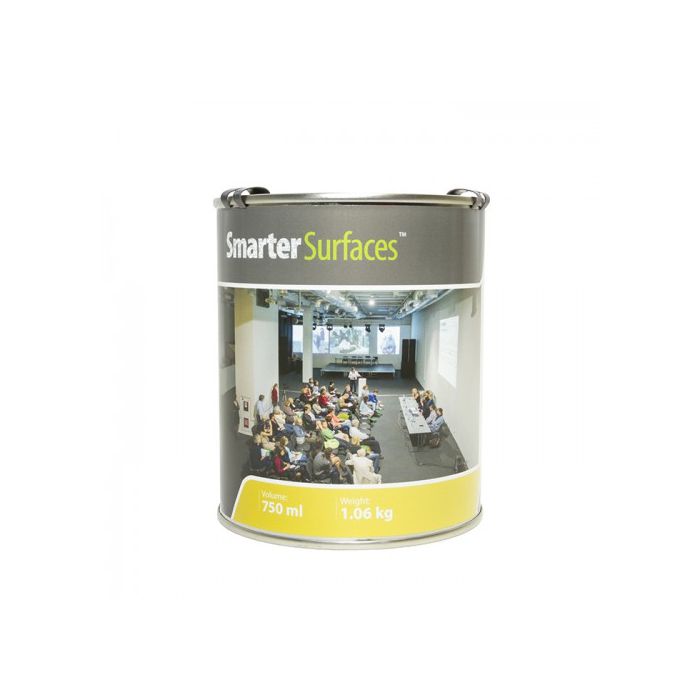 Projector Paint 6.5m² - White
Why Smart Projector Paint?
Turn any surface into a screen quickly and easily with Smart Projector Paint. Our projector paint is the optimal alternative to conventional screens, as it does not need to be installed. No matter in which area your projector or beamer is used, whether in offices, classrooms or even in the living room, the projector paint replaces the classic screen in every area.
The projector paint has a high opacity so that even bright images can be displayed sharply. In addition, the colour is water-soluble and has been developed in such a way that it enables a particularly high contrast and can be used by HD and standard projectors without any problems.
How to use Smart Projector Paint?
The Smart Projector Paint is not only the optimal replacement for canvas, it is also very easy to apply. Simply apply the projector paint to the desired surface. For best results, apply the projector paint in two coats. The first coat should be allowed to dry for at least two hours before applying the second coat. Once both coats have been applied, the paint should be allowed to dry for one day (24 hours). This ensures that it has really dried completely.


What is Smart Projector Paint?
The Smart Projector paint is supplied in a bucket. The content covers up to 6.5 m² (projection surface of approx. 3.1 x 2.1 m). It adheres to all surfaces without sanding. It has a low odour and does not produce any vapours. Furthermore, it does not contain any isocyanates. Furthermore, the paint has a very low VOC content and is therefore an environmentally friendly product. The projector paint was manufactured in Europe and is shipped from Germany.
If you need both a projection and whiteboard surface, we recommend our Smart 2 in 1 wallpaper (projector and whiteboard). It works as both a projection surface and a whiteboard.
More Information

| | |
| --- | --- |
| SKU | 381-SSS-PROJECTOR |
| brand | Stattys |
| Size | for 6.5m² / 69ft² surface |
| Color | white |
| Ideal for | Brainstorming, design thinking, flowcharts, kanban, mindmapping, presentations, project management, scrum, storyboards, visual planning, visual thinking |
| Environmental aspects | Rubber with iron particles |
| characteristics_whiteboard | Permanent |
| Material | Paint |
| Weight in kg | 1.16 |
| Delivery | We do our best to send within 0-2 days with DHL or Deutsche Post |
| VAT Number in EU | While completing your online order, please make sure you fill in your VAT number, if you have one and the delivery is to an EU-country outside Germany. Otherwise we have to incl. 19 % VAT on your invoice |
| Online offering | Our online offering is targeted for companies, registered business, freelancers and associations as well as authorities, schools and universities. German VAT added to all deliveries in Germany and EU deliveries without valid VAT number. |
| Country of Manufacture | Ireland |
| HTS Code | 32091000 |
Reviews
Check how other customers rate this product