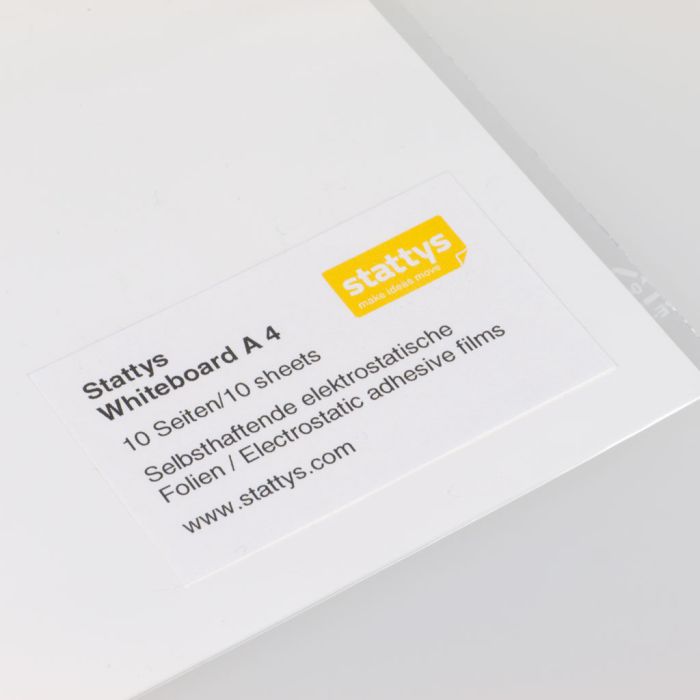 Stattys Whiteboard sheets A4-10
Why Stattys Electrostatic Whiteboard Sheets in A4?
May be you would like to test these whiteboard sheet in the A4 size or order a small quantity first?  Like all Stattys Whiteboards and Notes, these sheets adhere via their electrostatic charge on almost all hard surfaces. The sheets can also be safely applied to expensive wood and glass walls and no residue will remain on the surface where they are attached.
How do I use Stattys Electrostatic Whiteboards Sheets?
The shiny, bright side of the sheet is to be used for writing on. According to our experience, the sheets can still be wiped clean (paper towel or board cleaner) within the same day, if Faber-Castell board markers are used.
What are Stattys Electrostatic Whiteboards Sheets?
These sheets consist of very thin, polypropylene (PP) whiteboard films. The material is identical with the other Stattys Whiteboard in A1 format.
More Information

| | |
| --- | --- |
| SKU | 381-MBW10001 |
| brand | Stattys |
| Size | 21 x 29,7 cm (8.3" x 11.7") |
| Color | white |
| Ideal for | Brainstorming, clustering of ideas, design thinking, elevator pitches, flowcharts, mindmapping, presentations, project management, storyboards, visual planning, visual thinking |
| Environmental aspects | Recyclable polypropylene (pp), dispose in pp recycling system, small quantities are usually allowed to mix with paper waste, if no other option, dispose to municipal waste, which will be most often converted to energy, pp has a high calorific value |
| characteristics_whiteboard | Temporary, holds by electrostatic charge, no glue or residuals, best with whiteboard marker, reusable and repositionable, erase during the same day |
| Material | Recyclable polypropylene (pp) |
| Weight in kg | 0.03 |
| Delivery | We do our best to send within 0-2 days with DHL or Deutsche Post |
| VAT Number in EU | While completing your online order, please make sure you fill in your VAT number, if you have one and the delivery is to an EU-country outside Germany. Otherwise we have to incl. 19 % VAT on your invoice |
| Online offering | Our online offering is targeted for companies, registered business, freelancers and associations as well as authorities, schools and universities. German VAT added to all deliveries in Germany and EU deliveries without valid VAT number. |
Reviews
Check how other customers rate this product