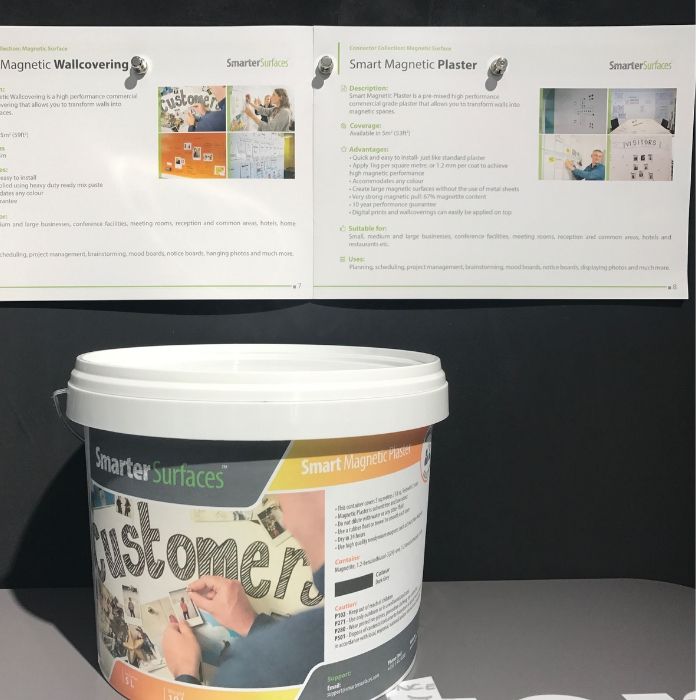 Smart Magnetic Plaster 5m² - Grey
Why Smart Magnetic Plaster?
With this magnetic plaster you can quickly turn walls in offices, meeting rooms or outdoor areas into a high-performance magnetic wall. No more falling of letters. Everything is on this wall.
How to use Smart Magnetic Plaster?
It is important that the surface is first painted with the Smart Primer. The magnetic plaster is already premixed, so a finished product. There is no need to add water. The plaster is applied like any other plaster with a scraper and smoothed with a trowel. This 10 kg bucket is sufficient for an area of 5m². After complete drying, which lasts approx. 24 hours, the magnetic plaster can be painted over with any desired surface color. Alternatively you can also attach a wallpaper.
What is Smart Magnetic Plaster?
With 60% magnetic content, this powerful plaster is the strongest currently on the market. It is ideally suited for commercial areas. This magnetic plaster is solvent-free, low-odor and environmentally friendly. It is water-based and does not contain VOCs.
More Information

| | |
| --- | --- |
| SKU | 381-SSS-MAGPLAST10 |
| brand | MagScape |
| Size | for 5m² / 53ft² surface |
| Color | grey |
| Ideal for | Brainstorming, design thinking, flowcharts, kanban, mindmapping, presentations, project management, scrum, storyboards, visual planning, visual thinking |
| Environmental aspects | odourless |
| characteristics_whiteboard | Permanent |
| Material | Plaster |
| Weight in kg | 10 |
| Delivery | We do our best to send within 0-2 days with DHL or Deutsche Post |
| VAT Number in EU | While completing your online order, please make sure you fill in your VAT number, if you have one and the delivery is to an EU-country outside Germany. Otherwise we have to incl. 19 % VAT on your invoice |
| Online offering | Our online offering is targeted for companies, registered business, freelancers and associations as well as authorities, schools and universities. German VAT added to all deliveries in Germany and EU deliveries without valid VAT number. |
| Country of Manufacture | Ireland |
| HTS Code | 25202000 |
Reviews
Check how other customers rate this product