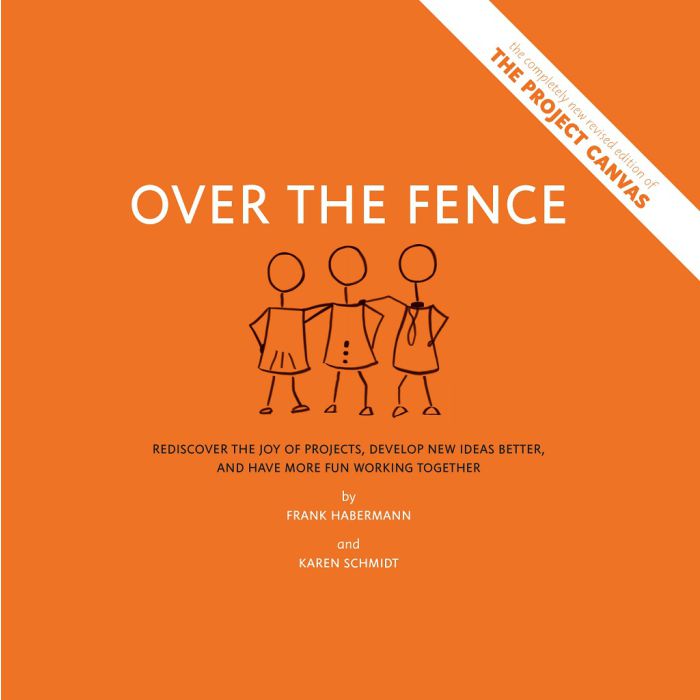 Over The Fence - the book (EN) - F. Habermann und K. Schmidt
Why regarding Over the Fence?
This book is more than a "toolbox" or a "guideline." It is a book for people in projects – it demonstrates how we can work together better and thus achieve more and have more fun.
"Over the Fence" offers inspirational stories, various examples of applications, good practices, and a concrete tool that helps all people to understand their projects better and make a real difference with human-centered project design. Simple and effective and guaranteed to be undogmatic.
Application
Content (Chapters)
PROJECT
If you are a project professional, in this chapter you may discover a new perspective on projects. If you are not so familiar with projects, you will encounter the essentials in a nutshell.
CANVAS
The Project Canvas is a tool for project definition – not only, but especially, for interdisciplinary teams. In this chapter you will learn which features make this tool so effective.
ACTION
Learn how to best use the Project Canvas for essential project design. Along with general tips and tricks, this chapter mainly offers three guidelines for workshops.
MASTERY
Good projects require good decisions, and good decisions require good perception. In this chapter we will show you how to achieve mastery in this field.
STORIES
In the run-up to the book we interviewed people who use the Project Canvas regularly. This chapter reports on their experiences. Here we have condensed dozens of interviews with 11 protagonists.
This book is a completely new revised edition of our first ebook "The Project Canvas" from 2014 and the first part of the "Over the Fence" book project. The book helps people in projects to benefit from interdisciplinary wisdom in order to design, manage, and lead complex projects, and have more fun at work.
We try to provide the most valuable knowledge for those who work in and on projects and are seeking effective tools. In developing these tools, we are looking far beyond the garden fence of "project management". We are inspired by good practices of other disciplines – art, sport, and technology among others – and not least by a hefty dose of good common sense.
About the authors
Frank Habermann is Professor for Business Administration at Berlin School of Economics and Law. Karen Schmidt is advisor and coach for challenging projects and transformation initiatives.
Together they initiated "Over the Fence" as an open international initiative for people in projects and a book project. The Project Canvas was the first tool released in 2014 with this very book. At first they were astonished by the positive response, then overwhelmed.
Since then they have encountered hundreds of projects that have successfully used the project canvas and shared their gift of feedback and inspiring stories. All of this embodies the philosophy of "Over the Fence". That is why this book has the very same title.
Podcast (German)
Project Canvas: Willst du das Projekt? - mit Karen Schmidt & Frank Habermann
Details
Edition: Version 1.0.
Publisher: Becota GmbH
English translation: by Carlye Birkenkrahe
Layout, composition and final image editing: by Ann-Kathrin Gallheber
Productsize: 21.5 x 21 x 2.5 cm
More Information

| | |
| --- | --- |
| SKU | 381-OTF305 |
| GTIN | ISBN: 978-3-00-060781-3 |
| brand | Habermann | Schmidt |
| Weight in kg | 0.75 |
| VAT Number in EU | While completing your online order, please make sure you fill in your VAT number, if you have one and the delivery is to an EU-country outside Germany. Otherwise we have to incl. 19 % VAT on your invoice |
| Online offering | Our online offering is targeted for companies, registered business, freelancers and associations as well as authorities, schools and universities. German VAT added to all deliveries in Germany and EU deliveries without valid VAT number. |
| Country of Manufacture | Germany |
| HTS Code | ISBN: 978-3-00-060781-3 |
Reviews
Check how other customers rate this product