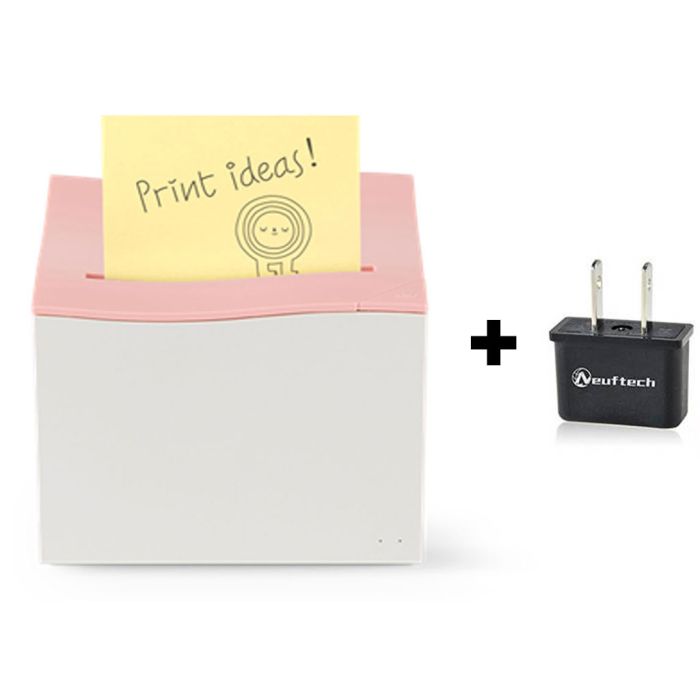 Sticky Notes Printer inlcuding Power plus adapter DE – US
Why Sticky Notes Printer?
For creativity and flexibility we still recommend Stattys Notes, but we are quite often asked can we also print Stattys. Now we can, and you can as well. Stricktly speaking it is not a traditional charged Stattys Note, but a printed paper sticky note. We believe it is very innovative and still good enough.
In workshops you could take a photo with your smart phone of the participant and then immediately print it with this printer. You want to use smiles, thumbs up or down. You can create your own icons and images both with your smartphone.
You can already order them, but we likely still need few days to complete the product text and include more photos and videos.
How do I use them?
Whether at home or in the office, connect your smartphone, tablet or PC via Bluetooth 4.1 or USB 2.0 to the printer with the supplied cable. Conveniently design your note on the smartphone or on the computer. In the app you will also find many templates of to-do lists on time management and more. The size of the note is 8 x 8 cm. Print the labels directly on the matching adhesive paper available in various colors and stick your notes wherever you go, whether on walls, windows, monitors and more! You can download the nemonic app here.
What are they?
The small size and beautiful design of the printer is perfect for any environment. Due to the thermal printing process the printer needs no further consumables except the paper cartridge. The two LEDs indicate the print status as well as the connection status and light in the color according to the selected paper. The printer can save and print frequently used notes by pressing the dispenser button for more than 2 seconds. The printer is available in white, green, blue, yellow and pink. You can easily order the matching paper cartridge here in the colors white, blue, yellow and pink.
This is the Bundle which includes a Power Plus Adapter (DE - US). Just select your color above.
More Information

| | |
| --- | --- |
| SKU | 381-MIP-B |
| brand | Stattys |
| Size | 22 x 18 x 18 cm package |
| Weight in kg | 1 |
| Delivery | We do our best to send within 0-2 days with DHL or Deutsche Post |
| VAT Number in EU | While completing your online order, please make sure you fill in your VAT number, if you have one and the delivery is to an EU-country outside Germany. Otherwise we have to incl. 19 % VAT on your invoice |
| Online offering | Our online offering is targeted for companies, registered business, freelancers and associations as well as authorities, schools and universities. German VAT added to all deliveries in Germany and EU deliveries without valid VAT number. |
| Country of Manufacture | South Korea |
| HTS Code | 84433210 |
Reviews
Check how other customers rate this product