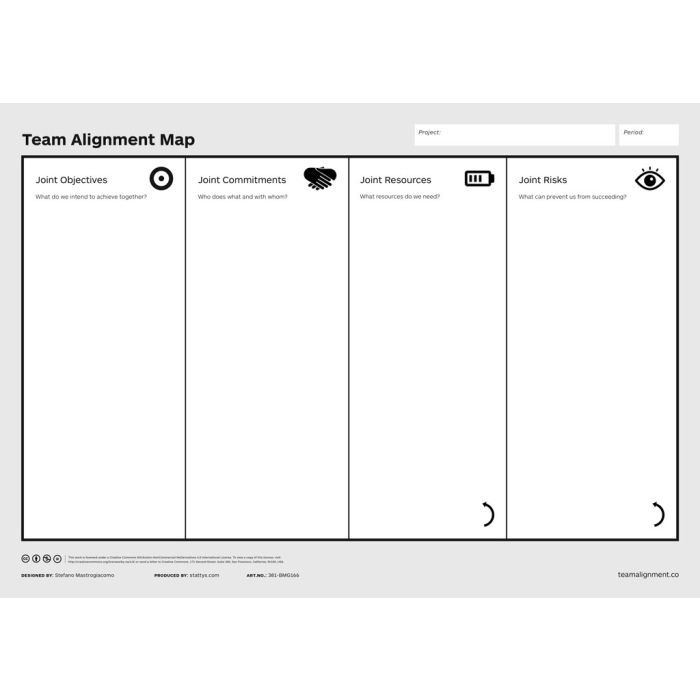 Team Alignment Map A3 folded to A4 (EN)
Why is Team Alignment Map A3 relevant for project teams starting a new project?
Often teams are missing a common understanding, common context, and language that everybody understands. This is so important at the beginning before the team starts the next challenge.
The Team Alignment Map, designed by Stefano Mastrogiacomo, is a great visual tool for better projects.

This Team Alignment Map is included in the Testing Business Ideas book.
How to use the Team Alignment Map?
Mission
You should agree on a short mission statement for the project. Write it on the map.

Time schedule
Determine when you should start and finish.

Joint objectives
Agree on joint objectives. Answer the question of what do we want to achieve together.

Joint commitments
Here you want to make sure that all team members are committed. You should agree who is doing what.

Joint resources
You should make sure that all the necessary resources to complete the projects will be available. Which resources will you need? Write them down.

Joint risks
What could be the most likely biggest risks or problems that you can face?

After you have completed the above you should "walk" through the map backwards. Make concrete thoughts on how you are going to deal with the biggest risks. Have then a look at the resources. Are they still adequate? If not, how will you deal with the limitations? It is crucial to discuss this before you start your project. Now you make sure that the time schedule and objectives are still aligned.


What is Team Alignment Map A3?
This map is a robust paper print of A3 size and folded in the middle to A4, which you can use many times when you write your items on Stattys Notes. For this small size map, the Stattys Notes XS are ideal.
More Information

| | |
| --- | --- |
| SKU | 381-BMG166 |
| brand | Team Alignment Company |
| Size | 43 x 29.7 cm (17" x 12") |
| Material | Printed paper 250 g/m² |
| Weight in kg | 0.03 |
| Delivery | We do our best to send within 0-2 days with DHL or Deutsche Post |
| VAT Number in EU | While completing your online order, please make sure you fill in your VAT number, if you have one and the delivery is to an EU-country outside Germany. Otherwise we have to incl. 19 % VAT on your invoice |
| Online offering | Our online offering is targeted for companies, registered business, freelancers and associations as well as authorities, schools and universities. German VAT added to all deliveries in Germany and EU deliveries without valid VAT number. |
| Country of Manufacture | Germany |
| HTS Code | 49011000 |
Reviews
Check how other customers rate this product