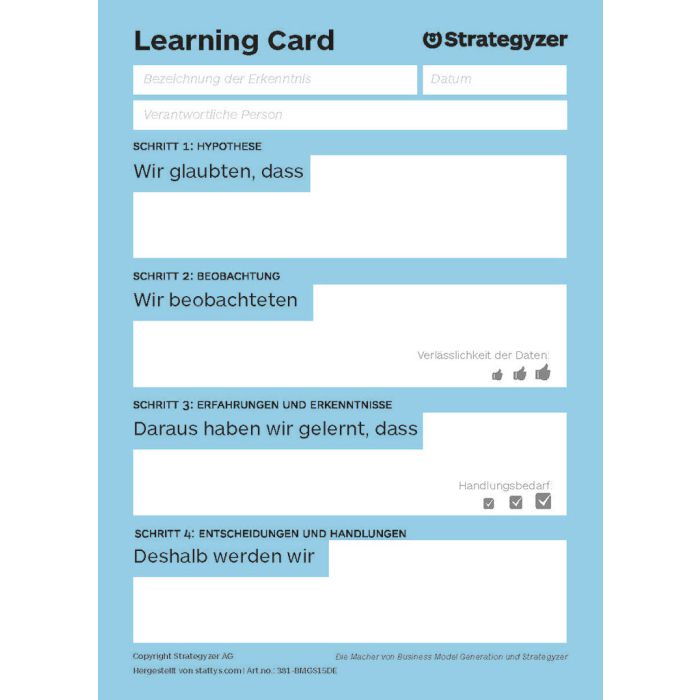 Strategyzer Business Model Learning Card A5 (DE)
Why and How to use Business Model Learning Cards?
The Learning Card forces you explicitly articulate:
Which hypotheses you went out to test
What you observed, discovered or learned in the field
What you deduct from thoese observations (i.e. the insights you gained from the experiment)
How you´ll act upon this learning (e. g. to improve your business model and value proposition ideas)
The Learning Card can be used in many contexts, but we use it mainly for Business Model and Value Proposition Design. It helps you capture your insights in the process of turning your ideas into a real business.It will be a lot more appealing than using only words and does not require any drawing skills.

What is it?
quantity: 1 unit Learning Cards
size: 6"x8"
More Information

| | |
| --- | --- |
| SKU | 381-BMGS39DE |
| brand | strategyzer |
| Size | 148 x 210 mm |
| Material | Printed paper 250 g/m² |
| Weight in kg | 0.008 |
| Delivery | We do our best to send within 0-2 days with DHL or Deutsche Post |
| VAT Number in EU | While completing your online order, please make sure you fill in your VAT number, if you have one and the delivery is to an EU-country outside Germany. Otherwise we have to incl. 19 % VAT on your invoice |
| Online offering | Our online offering is targeted for companies, registered business, freelancers and associations as well as authorities, schools and universities. German VAT added to all deliveries in Germany and EU deliveries without valid VAT number. |
| Country of Manufacture | Germany |
| HTS Code | 490110000 |
Reviews
Check how other customers rate this product