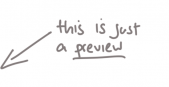 Why Project Design?
While in general, design is the conscious effort to create a meaningful order, project design is the collaborative effort to create a meaningful order that makes sense for each person involved. Here you find tools that help you to think on your own or in a team, if you want:
to visualize your project idea and reveal those parts which are in need of further consideration
to present your idea and win supporters and sponsors for your project
to develop a common ground that supports diverse teams to collaborate more effectively,
to create a good foundation for your project start (and further planning, etc.)
What is it?
Powerful and surprisingly simply methods and tools to shape your project in a meaningful way. These visual thinking tools have been developed by "Over the Fence", an open-source initiative for people in projects. It was founded in 2013 with the aim to provide the most valuable knowledge for anyone who faces projects and is looking for hands-on tools. We are inspired by cross-disciplinary knowledge and a whole lot of common sense. Our motto is "simple but powerful – demystified and buzzword-free"!
How to use it?
Here you get the print edition of the book "Project DESIGN" as well as a collection of nicely produced thinking tools for project design. However, if you have more time than money, you can get the digital editions for free from the Over the Fence initiatives - or you pay what you want. Check out the website. The digital editions are available in further languages.
You can support the mission of "Over the Fence" by using the book and the tools, by recommending them to your friends, and by sharing stories of your experiences. We are happy to help, if you face any challenges or have questions.
Links:
Lern more about Over the Fence - Projects Newly Discovered
Sign the Manifesto for slow thinking in projects
Use it, share it, co-create it!