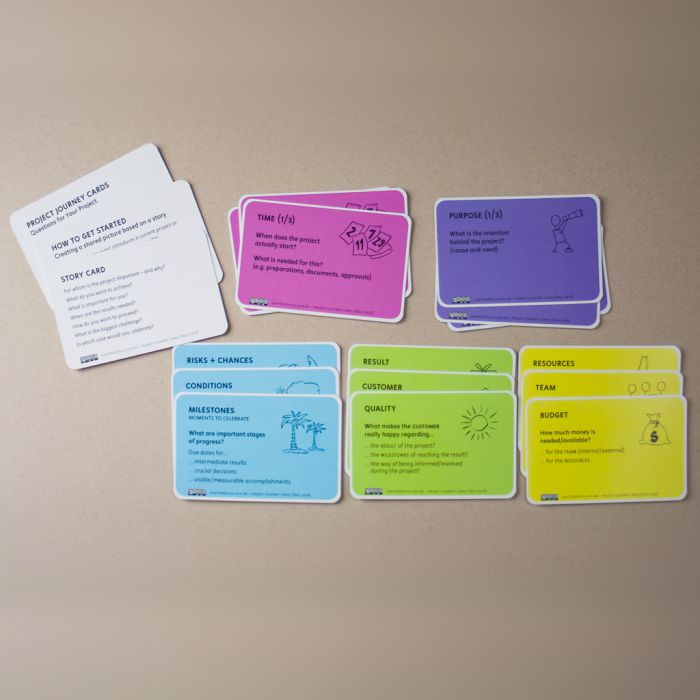 Project Journey Cards v4 (EN)
Project Journey Cards
The cards offer you powerful questions to gain clarity about the crucial aspects of your project. This card set will offer you the highest flexibility in applying them in conversations. With or without the project canvas.
You will benefit greatly from using the cards if you are an experienced facilitator, love to play and try out new dialogue formats. And simply having the right questions in your pockets may help in your next meeting with the owner or sponsor of you project. Be curious, ask the right questions. You have the permission to do so.
Play with the questions on your own - or even better - in conversation with others. You may think of various dialogue formats. One example: One person asks the questions to someone, who has important information about the project, e.g. project owner, sponsor. A third person acts as observer and takes notes of the answers. Afterwards the observer is sharing their notes and the others get the chance to add their thoughts and thus create a shared understanding. You may use a project canvas for collecting all the ideas and results. Or anything else.
Tip: The "Over the Fence" project initiative will happily share tips and tricks for facilitating various ways of using the cards and would love to learn from your experiences and questions.
A set of game cards. The set contains the crucial questions to gain more clarity about a project. The questions are similar to the those on the Project Canvas. They contain the essential knowledge to clarify a project design. They offer you the essence of state-of-the-art project management know-how in natural language. Additionally the set contains a story card, which helps a project owner to tell the story of their project in 5 minutes.
These are the version 4 from April 2018.
Links
More Information

| | |
| --- | --- |
| SKU | 381-OTF303 |
| GTIN | 4260381080985 |
| brand | Habermann | Schmidt |
| Size | 59 x 91 mm |
| Material | Playing cards |
| Weight in kg | 0.08 |
| Delivery | We do our best to send within 0-2 days with DHL or Deutsche Post |
| VAT Number in EU | While completing your online order, please make sure you fill in your VAT number, if you have one and the delivery is to an EU-country outside Germany. Otherwise we have to incl. 19 % VAT on your invoice |
| Online offering | Our online offering is targeted for companies, registered business, freelancers and associations as well as authorities, schools and universities. German VAT added to all deliveries in Germany and EU deliveries without valid VAT number. |
| Country of Manufacture | Germany |
| HTS Code | 95044000 |
Reviews
Check how other customers rate this product