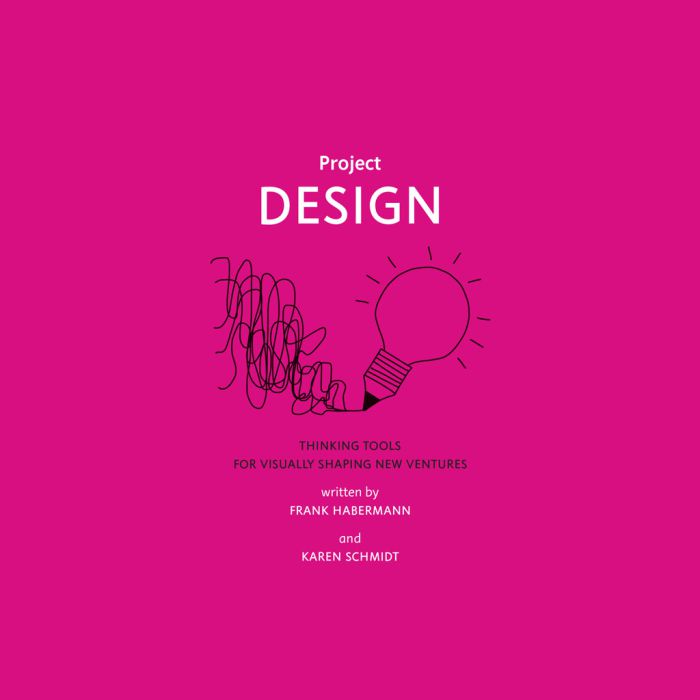 Project Design Book (EN) - F. Habermann und K. Schmidt
Project Design Book
Learn to systematically shape and visualize projects – demystified and buzzword-free. Find a variety of surprisingly simple techniques and visual templates, which have proven to be helpful for many people. The popular "Project canvas" is just one of these. Get ready to tailor a powerful design for your project – a design that helps you to master your challenge!
If you are new to projects, you will learn simple yet powerful techniques for setting up a new project. As a project professional, you can acquire new and innovative ideas and benefit from cross-disciplinary wisdom.
Designing a project is a process of careful consideration and interative reflection. It gives you insights to what your project means and what your project needs. The book serves you as
handbook for project leaders
toolbox for interdisciplinary teams
guideline for mastering a challenge
The book provides 25 powerful thinking tools for visually designing new projects. But "Project Design" is more than a tool book. It's a book about people in projects – how to effectively collaborate and have more fun at work.
Project DESIGN is the second book of the "Over the Fence" book project. Founded in 2013, "Over the Fence" is an open-source initiative for people in projects. We are inspired by cross-disciplinary knowledge and a whole lot of common sense. The motto is "simple but powerful – demystified and buzzword-free". The authors publish ebooks and step by step so that they are are able to learn and adapt to your needs.
This hardcover book exists only because the readers of the ebook told the authors again and again: "This needs to be printed on paper!" And it's really handy in workshops. Please feel invited to tell us, whether the content was helpful, how we could become better, and what you would like to see in the upcoming releases.
Links
Other
Other:
Hardcover: 188 pages
Publisher: Becota GmbH, January 2017
Language: English
ISBN: 978-3-00-052858-3
Authors: Frank Habermann, Karen Schmidt
More Information

| | |
| --- | --- |
| SKU | 381-OTF304 |
| GTIN | ISBN: 978-3-00-055576-3 |
| brand | Habermann | Schmidt |
| Weight in kg | 0.59 |
| VAT Number in EU | While completing your online order, please make sure you fill in your VAT number, if you have one and the delivery is to an EU-country outside Germany. Otherwise we have to incl. 19 % VAT on your invoice |
| Online offering | Our online offering is targeted for companies, registered business, freelancers and associations as well as authorities, schools and universities. German VAT added to all deliveries in Germany and EU deliveries without valid VAT number. |
| Country of Manufacture | Germany |
| HTS Code | ISBN: 978-3-00-055576-3 |
Reviews
Check how other customers rate this product