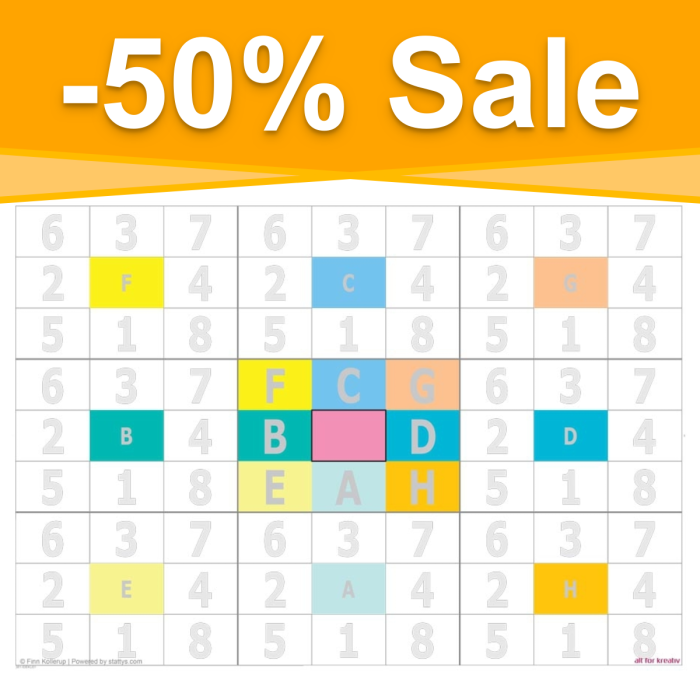 IDEKU Template A2 (16,54" x 23,39") with Instructions
From €2.45 Regular Price €4.90
To €2.95 Regular Price €5.90
Why IDEKU Template?
IDEKU can easily be used in all situations where you need to develop an idea or an idea direction, a situation or a problem and finding new ideas, solutions and actions. The method enables all at once.
What is it?
IDEKU is a method for systematic generation of ideas. it is a template consisting of a pink middle field, in which the challenge is defined in the form of an open question.
Around the middle field there are 8 colored direction fields (A to H). Around each direction field there are 8 idea fields (1 to 8). The IDEKU Template has room for 64 ideas - based on one central question and 8 directions. It is designed for 1-500 people
Recommend Material for one Group:
How to use it?
IDEKU Template is a canvas which consists of a violet center field in which the problem is formulated. 8 colored fields that indicate idea directions and 64 white
fields which are spaceholder for ideas. Start to write the problem statement and build your directions and ideas. We prefer to use Stattys Notes XS so you can use the IDEKU Template serveral times.
Step-by-Step Introduction:
Write on a Stattys Notes XS the statement or question in the center field
all participants shout out their idea directions and write them on Stattys Notes XS. Then place them on the colored fields.
Now focus on one idea direction and go one level deeper and find more ideas around
Write them on Stattys Notes XS and place them on the white fields (idea field) to close the idea direction
Proceed it until all idea directions are explored
Contains
IDEKU Template Size A2
IDEKU Instructions in English
More Information

| | |
| --- | --- |
| SKU | 381-IDEKU01B |
| brand | Stattys |
| Size | 42 x 59,4 cm (16,54" x 23,39") |
| Delivery | We do our best to send within 0-2 days with DHL or Deutsche Post |
| VAT Number in EU | While completing your online order, please make sure you fill in your VAT number, if you have one and the delivery is to an EU-country outside Germany. Otherwise we have to incl. 19 % VAT on your invoice |
| Online offering | Our online offering is targeted for companies, registered business, freelancers and associations as well as authorities, schools and universities. German VAT added to all deliveries in Germany and EU deliveries without valid VAT number. |
| Country of Manufacture | Germany |
| HTS Code | 490110000 |
Reviews
Check how other customers rate this product