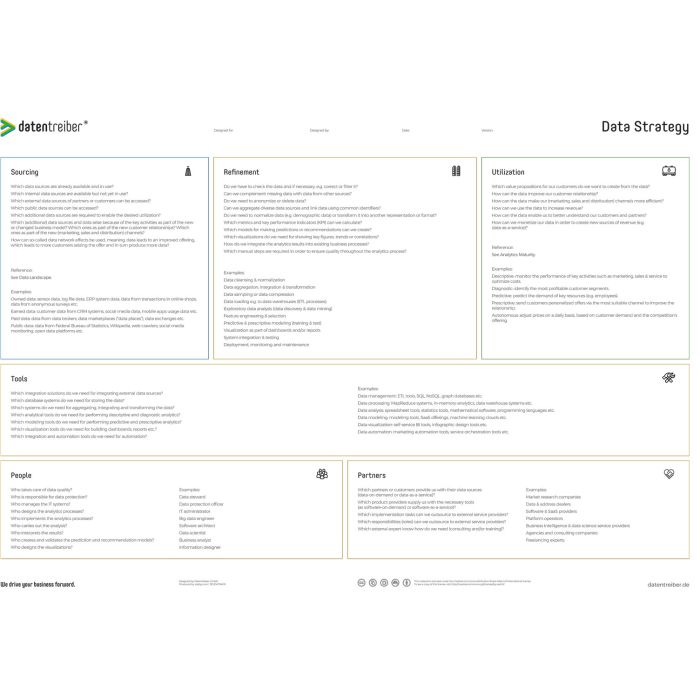 Data Strategy A0 (47" x 33") synthetic paper (EN)
Why the Data Strategy Canvas?
With the data strategy canvas you discover new ways of exploiting your data and check the feasibility of data-driven use cases. Analytics projects require interdisciplinary teams and high levels of abstraction from the people involved. The data strategy canvas provides a common visual language for all project stakeholders and involves all stakeholders. The creative work with the Canvas and Stattys Notes makes abstract issues generally understandable.
What is Data Strategy Canvas?
The data strategy canvas is a visual collaboration tool for data strategists, data scientists, entrepreneurs and managers. It is based on the Business Model Canvas, complements the Business Model Generation Toolkit and can be used in combination with the Business Model and Value Proposition Canvas, for example, to model and analyze data-driven business models. With the Data Landscape Canvas and Analytics Maturity Canvas, two additional tools are available to explore existing data sources and discover additional data sources, or to classify and compare use cases with the required level of analytic maturity.
Note: the canvas contains key questions to help you fill it.
How to use Data Strategy Canvas?
How you start:
You can begin a data strategy in two ways: data-driven by tapping into your data sources by listing all existing data sources and then considering possible use cases based on that data; or use-oriented with the recovery of your data, by first identifying use cases and then considering which data you need. If you have the time, start with the benefit-oriented approach and do a second round on the data-driven path.
Specify your data strategy.
Then, go through the building blocks of a data strategy from left to right or right to left and from top to bottom and answer the critical questions in the context of a building block. For each answer, idea or note, use a Stattys Notes. Use different colors (green, yellow, and red) to indicate the availability of data, tools, people, or partnerships. White Stattys Notes are a great way to capture open questions, critical comments, or issues to solve.
Check the completeness and logical context.
When you've gone through all the building blocks, take a step back and ask yourself: what did I forget? What does not fit together? What is possibly superfluous? For example, check if you have all the data you need, if you have the tools to explore and refine your data, and if your employees have a good understanding of how to use those tools. Complete and improve your data strategy continuously. The data strategy canvas is a working document.
Tell a story.
Introduce your data strategy to people who did not participate in the creation process. Start with a blank data strategy canvas and gradually fill the canvas as you explain your data strategy. Incorporate the feedback, suggestions and suggestions of your audience directly into the data strategy Canvas.
Links
More information can be found on Datentreiber.
More Information

| | |
| --- | --- |
| SKU | 381-DATR409 |
| brand | Datentreiber |
| Size | 118,9 x 84,1 cm (49" x 33") |
| Material | Synthetic paper 210 g/m² |
| Weight in kg | 0.21 |
| Delivery | We do our best to send within 0-2 days with DHL or Deutsche Post |
| VAT Number in EU | While completing your online order, please make sure you fill in your VAT number, if you have one and the delivery is to an EU-country outside Germany. Otherwise we have to incl. 19 % VAT on your invoice |
| Online offering | Our online offering is targeted for companies, registered business, freelancers and associations as well as authorities, schools and universities. German VAT added to all deliveries in Germany and EU deliveries without valid VAT number. |
Reviews
Check how other customers rate this product