*English* Virtual Masterclass - Testing Business Ideas (3 Half-day Sessions)
Event Information
Sep 15, 2020 3:30 PM - Sep 17, 2020 5:00 PM
Organizer Information
Alexander Osterwalder & David Bland

Masterclass Agenda

Day 1: Designing world-class experiments

September 15th • 9:30 - 13:00 EDT // 15:30 - 19:00 CES

Part I

Assumptions Mapping
Discover a library of 44 experiments
Pick the right experiment at the right time
Coffee Break

Part II

Designing & running a discovery experiment
Sophisticated interviewing techniques & pitfalls

Day 2: Designing experiment sequences

September 16th • 9:30 - 13:00 EDT // 15:30 - 19:00 CEST

Part III

Live prototyping with templates
Designing experiment sequences
Coffee Break

Part IV

Making Data influenced decisions

Day 3: Managing the testing process

September 17th • 9:30 - 13:00 EDT // 15:30 - 19:00 CEST

Part V

Teams and ceremonies
Creating a culture of experimentation
Coffee Break

Part VI

Applying innovation metrics to reduce risk
Portfolio management & funding
Why you should attend a Strategyzer Masterclass?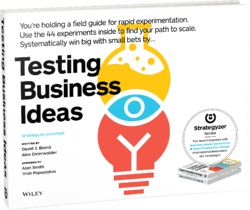 Too many entrepreneurs and innovators execute ideas prematurely because they look great on paper, only to learn later that their vision turned out to be a hallucination. Stop wasting time and money, and apply the tools and processes that millions of corporate innovators and entrepreneurs use to systematically reduce the risk and uncertainty of new business ideas.

In this virtual Masterclass, David J Bland will go beyond his best-selling book Testing Business Ideas, and share with you the latest thinking and trade secrets. Designed by a team that has been running virtual workshops for over a decade, this Masterclass is hands-on and practical with high energy, countless exercises, and tremendous take-home value.
Making decisions at different levels of the organization
David J. Bland, author of the book "Testing Business Ideas" tells us about how the masterclass will help leaders and innovators make different decisions based on a deep understanding of the testing components and process to ensure validity.
What is the Experiment Library?
David J. Bland, author of the book "Testing Business Ideas" tells us about the experiment library and how it all fits with the canvases uses to design new business ideas.
 

Meet the Speakers

Alexander Osterwalder

Entrepreneur, Speaker and Business Theorist
Dr. Alexander (Alex) Osterwalder is one of the world's most influential innovation experts, a leading author, entrepreneur and in-demand speaker whose work has changed the way established companies do business and how new ventures get started.

Ranked No. 4 of the Thinkers50 list of the most influential management thinkers worldwide, Osterwalder is known for simplifying the strategy development process and turning complex concepts into digestible visual models. He invented the Business Model Canvas, Value Proposition Canvas, and Business Portfolio Map. His books include the international bestseller Business Model Generation, Value Proposition Design: How to Create Products and Services Customers Want, Testing Business Ideas and The Invincible Company.
 
 
David Bland

Founder & CEO of Precoil, Author and Advisor
David J Bland is an author and founder based in Silicon Valley. In 2015, he founded Precoil to help companies find product market fit using lean startup, design thinking and business model innovation.

David has helped validate new products and services at companies such as GE, Toyota, Adobe, HP and Behr.

David is the co-author of Testing Business Ideas, a Wiley business book with Alexander Osterwalder.

Prior to advising, David spent over 10 years of his career scaling technology startups. He continues to give back to the startup community by teaching at several accelerators in Silicon Valley.