Boost your creativity and plan you day visually with Stattys Notes
Covid-19 pandemic has forced or made us happy to work from a home office or a remote location. Also, as kindergarten and schools are partly closed, we might share our workspace and time with our children and family members at home. We need to learn to balance work and family requests. We hear and read that it can be challenging to engage the children in a useful matter and to keep them away from too many hours of digital consumption. We believe that creativity and learning still works the best with pen and paper. With pen, we mean any "device" that we can use with our hand and write, sketch and draw with it. Replace paper with Stattys Notes, Noteboard, or whiteboards (see solution 3 below). Or something else that you have already available.
We believe that a good way to start acting is to plan your own and the day of your children. Some would likely plan the day on a piece of paper and make it more like a to-do list. While this might work for some very disciplined and self-motivated people, others might struggle. Try instead of an agile and visual planning method. You could use our Stattys Notes (or classical sticky notes) to plan the day visually and colorfully. Use color-coding, i.e. one color for one theme. For learning, you could use blue notes and use one note for each task. This will make the planning process more fun and engaging - especially for your children. Ideally, you make the planning process a daily routine together with your children. We can recommend the use of a Kanban board. You could draw it on a large piece of paper or you could buy our Personal Kanban Board. You can download free instructions on how to use it in English and German - even if you do not purchase anything from us. Check it out.
Learning to structure and playfully plan your day can be a real win. Try it.
Take notes and make sketches on our foldable pocket-size whiteboard - Noteboard
This whiteboard sheet can be folded to a pocket-size. It is ideal for visual notetaking and sketches in a business context and works equally well for learning purposes. This is a product from small children to grandparents. As everything seems to be going digital and online, we are worried that drawing and sketching as a creativity method will lose importance. Let's draw more.
Learning to structure and playfully plan your day can be a real win. Try it.
Each side of the Noteboard works as a whiteboard surface. One side is with dotted lines and grids, which make it easier to draw straight lines or other images and the other side is plain white.

The unfolded size is 88 x 38 cm (35"x15"). Once you are done with your notes, drawings, or sketches, you might want to document it as a photo and share it with others or just archive it for your own use.

I tested some remote locations in Finland to boost my own creativity: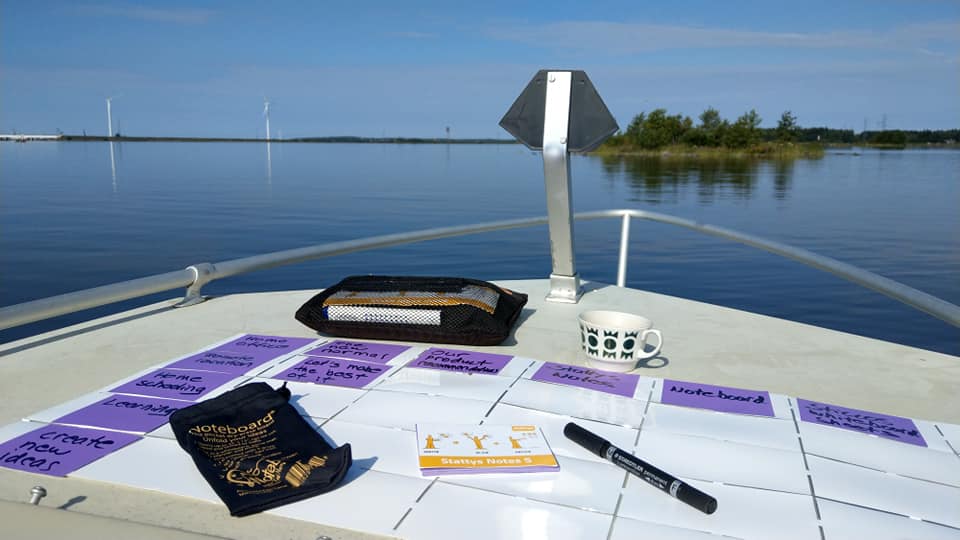 Use the new magnetic Sticcos Whiteboard Sheets as a family communication board in the kitchen, as visual learning board for schoolchildren or a whiteboard behind you (home) office door
Our third proposal for working visual at home is using a whiteboard. Should you not have one for yourself, the family, and the children, we might be able to offer an inexpensive and creative solution without the need to drill holes in the wall. We call them Sticcos Whiteboard Sheets. There is also a version that enables the use of magnets.
The Sticcos name we created form stickiness. Our thin Sticcos Whiteboard Sheets are recyclable polypropylene (pp) sheets with a micronobbing technology that makes them stick (without glue) to almost any smooth and glossy surface. As it is free from glue it cannot damage the surface underneath and is easily removable. We recommend finding an inspirational place and leave it there.
It allows you and your children to be creative on a bigger scale and it is easy to wipe clean the sketches of whiteboard markers. You could of course also use Stattys Notes on your Sticcos Whiteboard. A good place for it can be a door, cupboard, refrigerator or a window. Walls are normally not glossy and smooth enough and therefore the Sticcos Whiteboard Sheets seldom stick on the wall directly.
We prepared a comparison table for all the Sticcos versions available. Check them here.
We hope we were able to provide you some ideas and solutions how to make your home office to a place for more visual creativity.
Check out Mikko's video to working visually at home and in remote location here.


Stay safe,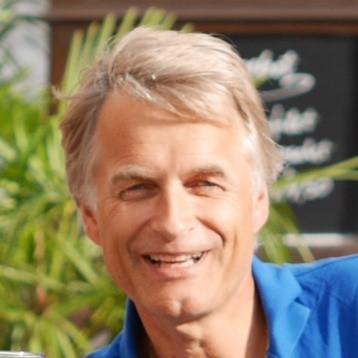 Mikko Mannila
Entrepreneur and founder of Stattys