Our Mission
Since 2010 our mission is to help individuals and teams, primarily in business context, to be more successful by using simple and easy to use visual tools and templates to gain clarity and to master real life challenges. We have been providing innovative Stattys work material (tools) for creative, visual work and already have over 15,000 customers.
These visual aids enable you to get started very quickly and maintain a good overview of the full picture as you develop your ideas further. Our customers are individuals, who want to improve, to create, to develop, to learn, to master something new and challenging.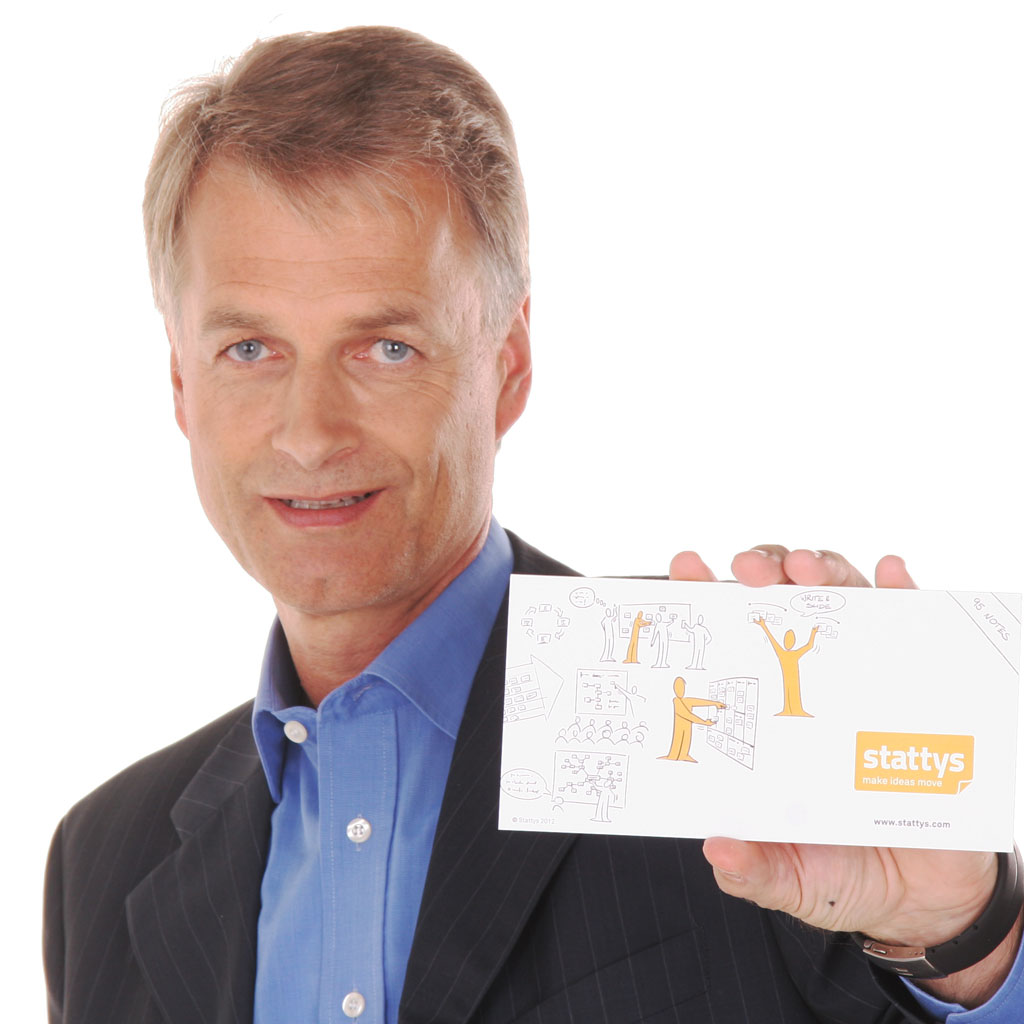 Innovation and Strategy with Tools and Methods
Writing business plans is old school and ineffective. Use visual tools with proven process, gain alignment in team and start making immediate progress. For us and certainly for many others, the Business Model Canvas was a kind of revolution. It has made it easy, fast and visual to communicate with others through business models, understand and redevelop the model.
Click here for more.
Innovation & Strategy includes these topics:
Business Model Generation (Canvas & Tools)
Strategy Tools
Data Strategy Design
Innovation Methods
Marketing
Negotiation
Projects
Personal Development
Visualization & Learning
Products to Visualize and Communicate Ideas in Handwriting
We believe that in the early face of a creative process it is still best to use a pen, and write and draw with our innovative products. While the range of traditional whiteboard solutions is vast, we would like to focus on other options to enable you to use walls, windows, doors, cabinets as intelligent whiteboard space for being creative.
Products to visualize are categoriezied as the following:
Stattys Products (Electrostatic Notes, Sets, Toolkits & Specials)
Creative Walls (Whiteboards, Clearboards, Noteboard, Wall-Paint, Wallcovering & Sets)
Imsinne Whiteboards, Tools & Sets

Our Partners and Experts
We have partnered with world wide experts who have incorporated design thinking to their strategy and innovation methods and are willing to share their tools.
Our partners

Ein Beispiel Text
Ein Beispiel Text
Ein Beispiel Text

Ein Beispiel Text
Ein Beispiel Text
Ein Beispiel Text

Ein Beispiel Text
Ein Beispiel Text
Ein Beispiel Text

Ein Beispiel Text
Ein Beispiel Text
Ein Beispiel Text

Ein Beispiel Text
Ein Beispiel Text
Ein Beispiel Text
Need help to Quick Start or Boost your Innovation and Strategy Process?
If you want do it yourself or with your team, we might be able to help you with the right tools and methods. If you need an expert to guide or facilitate you, we can find the right person or team that accelerates your process. Schedule a call with Mikko
make ideas move / News
Our goal is to help you master your challenges more successfully. With small tips, videos, maybe interviews, we would like to give impulses. Our topics include visual work and communication, innovation and strategy development, agile project management and much more. Register now with our newsletter and get a 5 € Coupon Code.
Statty's products are made of recyclable materials, free of adhesive or adhesives, and adhere to virtually any smooth surface without the need for additional aids. They can be used and repositioned several times.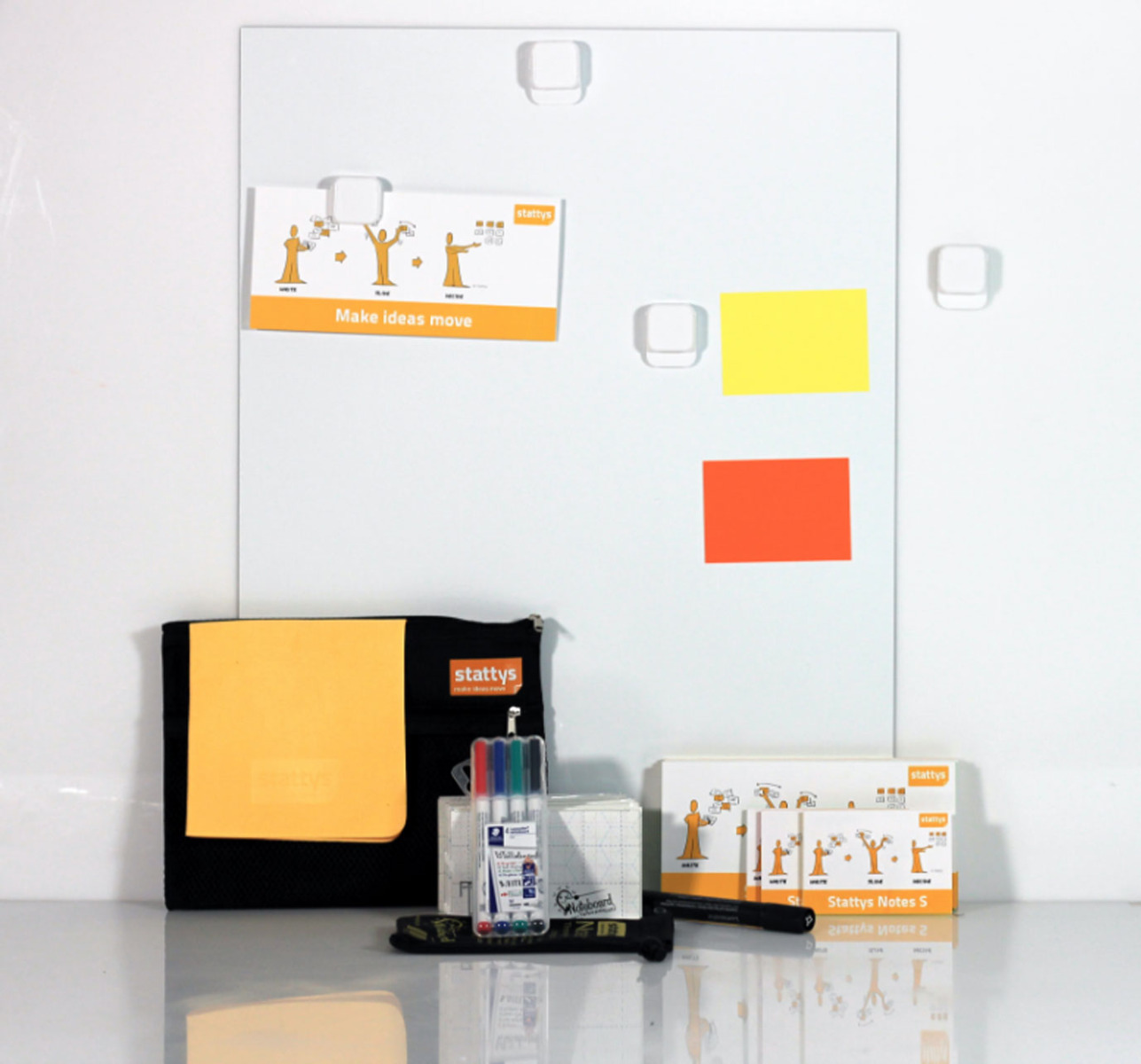 Home Office + New Work + Family Set
No matter whether you want to solve problems privately, in your home office or in a team or find new ideas. Grab our whiteboard, pens, the matching Stattys and get started. With the SticcosClips you can attach your notes anywhere and move them flexibly and wipe away your notes at any time with the microfiber cloth and collect new ideas. This is how flexible brainstorming works!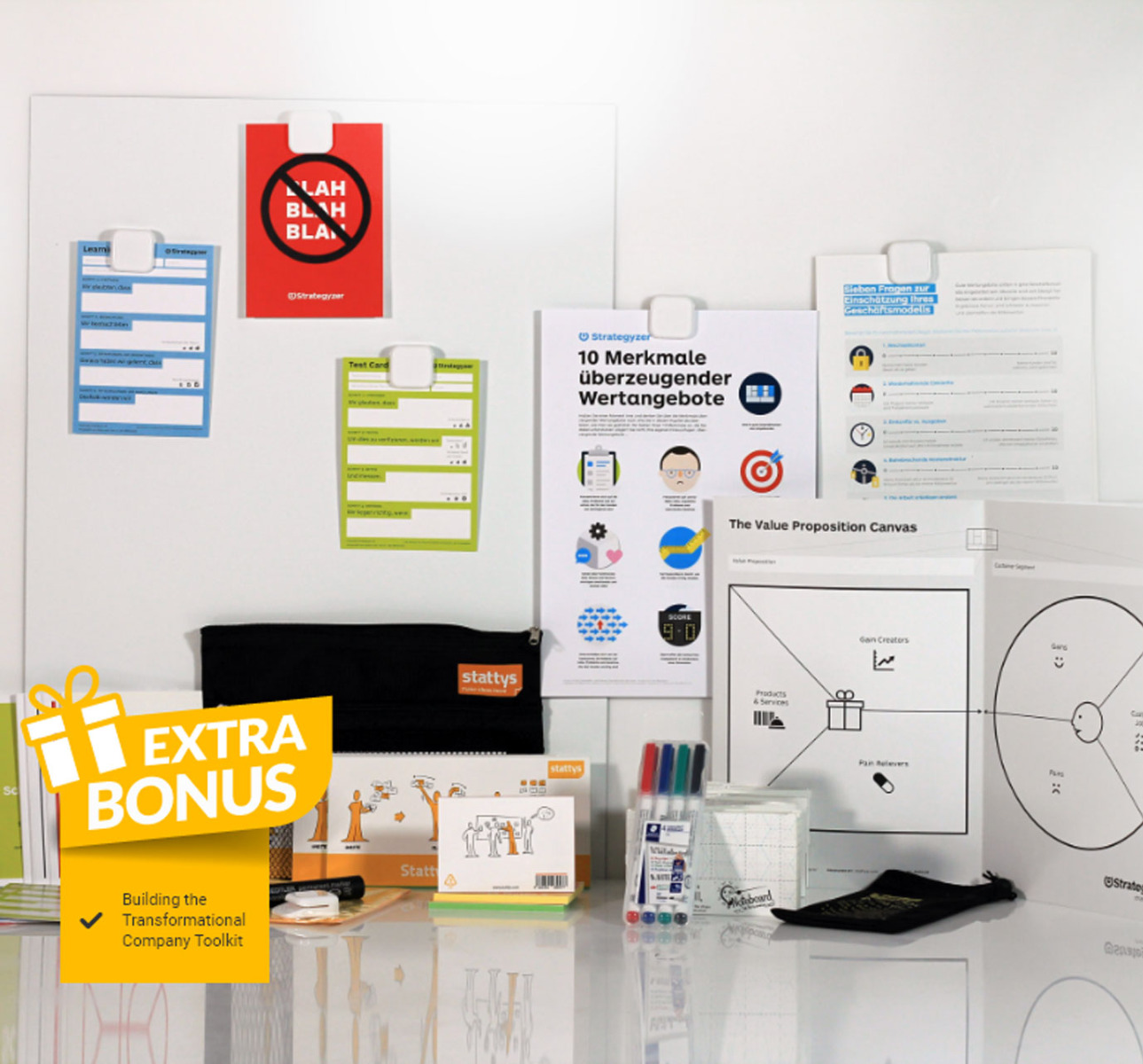 New Work + Business Model Booster Bundle
This set is filled with numerous materials that will help you develop processes, projects or ideas in your company. In addition to the classic Stattys and writing materials, this set convinces with Canvas, instructions, flashcards and much more. As a special bonus, you will receive a toolkit with workbook, strategy cards and canvas as an add-on for 0 € in this set - get started today!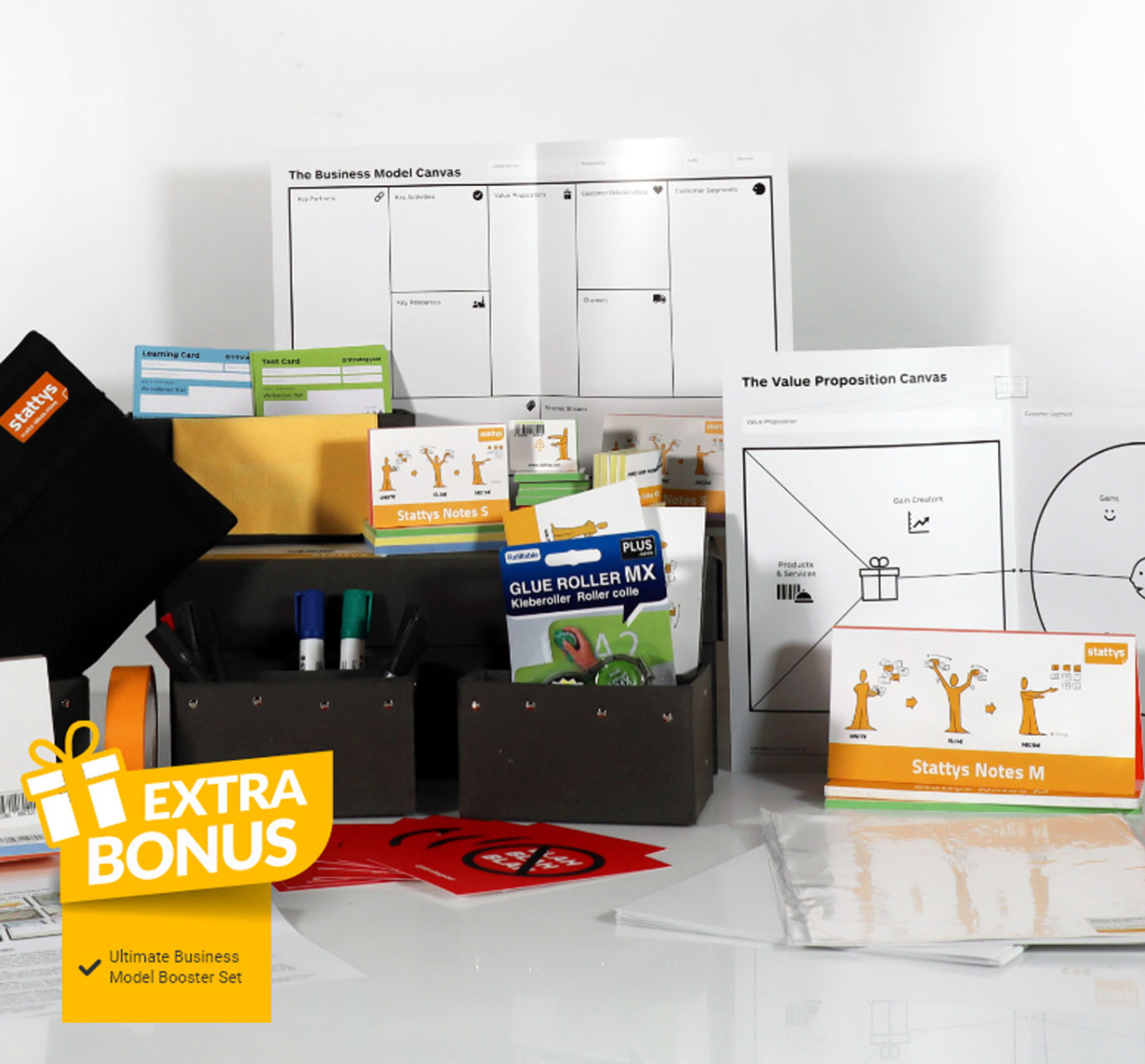 Ecological all-in-one workshop box-Bundle
This box is the all-rounder when it comes to creative work and contains a wide range of contents. This set not only contains our classic whiteboard including SticcosClips and markers, but also the entire content of the Workshop Box 2.0. With this, you can not only optimise ideas and processes, but also plan and conduct training courses, presentations and all kinds of lectures with the contents of this box. In addition, the Ultimate Business Model Booster Set is available as an exclusive addition to the box.